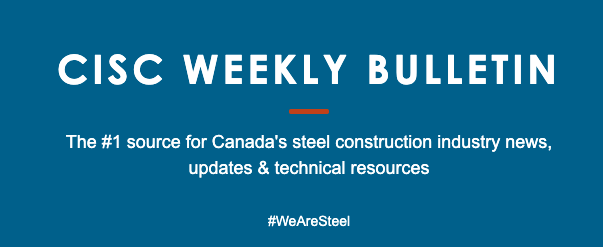 CISC Weekly Bulletin | October 2, 2020
Technical Column
What are the different grades of steel covered in ASTM A709? Get answers to this and other questions in this week's edition of Engineers' Corner.
———
Promoting Excellence in Steel Construction
If you have a passion for supporting the next generation of steel professionals and for the future of the Canadian steel construction industry, I encourage you to consider becoming an ERC financial supporter.
———
RJC Designs the New Toronto Zoo Orangutan Exhibit, Steel the Only Answer
This project will provide Sumatran orangutans with two new outdoor habitats as well as minor modifications to the existing indoor orangutan holding and exhibit areas within the Indo-Malaya Pavilion.
———
Register Now for Upcoming Webinar on Budgeting Steel Structures
This webinar provides attendees with the information required to prepare cost effective pricing for steel structures.
A Modernized Engineers Act: The Passage of Bill 29 by the National Assembly of Quebec
An Act to amend the Professional Code and other provisions in particular in the oral health and the applied sciences sectors, was passed by the National Assembly.
———
Daily COVID-19 Screening Now Required in Ontario Workplaces
Each Ontario workplace is now required to pro-actively screen every worker and essential visitor for COVID-19-related symptoms and risk factors prior to entry into the work environment,
———
Showcase Innovative Projects in the Advantage Steel Magazine
The CISC is preparing for the upcoming issue of Advantage Steel Magazine. We invite you to share with us any unique, exciting and ground-breaking projects or research you or your organization has completed recently!
+ Submit article
———
Upcoming CISC Webinars
Deliver cost-effective projects with Budgeting Steel Structures
October 13, 2020
12:00 PM – 1:30 PM (1.5 hrs)
Alternative: November 5, 2020
3:00 PM – 4:30 PM (1.5 hrs)
+ Learn more


….
Dive into the essential manual of the industry with What's New CISC Handbook of Steel Construction, 11th ed and CSA S16-14
Session 1: October 13, 2020
3:00 PM – 4:00 PM (1 hr)
Alternative: November 4, 2020
12:00 PM – 1:00 PM (1.5 hrs)
….
Evaluate and assess with Steel Erection Estimating
October 14, 2020
12:00 PM – 1:30 PM (1.5 hrs)
Alternative: October 29, 2020
3:00 PM – 4:30 PM (1.5 hrs)
….
Construct with the most practical and economic solutions in the Industrial Building Design webinar
October 19, 2020
3:00 PM – 4:00 PM (1 hr)
Alternative: November 24, 2020
12:00 PM – 1:00 PM (1 hr)
#SteelWins
Steel is a non-combustible material and consequently does not burn, provide an ignition source or add fuel load that would enable a fire to sread or grow into a catastrophic event.
Order Your Copy Today: Moment Connections for Seismic Applications
Design Module 7, covers common connection types for ductile, moderately ductile and limited-ductility moment-resisting frames designed according to CSA S16:19 Clause 27.
CISC Job Board
Steel Detailer – Downtown Montreal
JITECH| Montreal, QC
Structural Engineer – Downtown Montreal
JITECH| Montreal, QC
Featured Member
IWL Steel Fabricators continues to focus on industrial, commercial and institutional projects of all sizes. Specializing in the potash, uranium and gold mining sectors, IWL is also active in the energy industry and the construction of hospitals, schools, condominium projects and commercial retail developments.