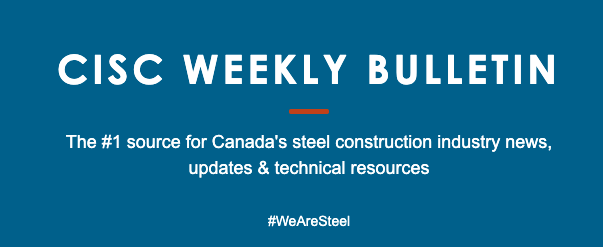 CISC Weekly Bulletin | October 9, 2020
Engineers' Corner: Unbraced Length in X-Bracing – Out-of-Plane Buckling
What effective length KL should be used to determine the factored resistance of the compression brace. […]
—-
IO Releases its P3 Market Update Valued Over $60B
In September 2019, the minister of infrastructure announced a commitment to provide quarterly P3 Market Updates to industry, states a release, adding more frequent updates add to IO's previous practice of providing this information on an annual basis.
—-
Ontario Advances Infrastructure Projects to Strengthen Communities and Create Jobs
Province Releases P3 Market Update Representing Investments Valued at $60 billion.
—-
HAMBRO: Concrete vs Steel Case Study
Hambro by Canam was asked to convert the design of a building from concrete to load bearing steel structure with Hambro floor system.
—-
Upcoming CISC Webinars
Construct with the most practical and economic solutions in the Industrial Building Design webinar
October 19, 2020
3:00 PM – 4:00 PM (1 hr)
Alternative: November 24, 2020
12:00 PM – 1:00 PM (1 hr)
Make a seismic impact with Seismic Design of Industrial Steel Structures + CSA S16-14 Annex M
Session 1: October 27, 2020
3:00 PM – 4:30 PM (1.5 hrs)
Alternative: November 12, 2020
12:00 PM – 1:30 PM (1.5 hrs)
Boost Your Career with Courses from the CISC
Taught by leading professionals in the Canadian steel sector, these engaging webinars are perfect for rising steel professionals, engineers, architects, detailers, and other industry members.
Order Your Essential Guide to Gerber Roof Girders Today!
Covers the design of roof girders in Gerber construction. Design tables are provided to assist designers in selecting the cantilever girder and drop-in segment sizes for typical building applications with evenly spaced columns and joists.
—-
CISC Job Board
Steel Detailer – Downtown Montreal
JITECH| Montreal, QC
Structural Engineer – Downtown Montreal
JITECH| Montreal, QC
Featured Member
Garneau Manufacturing inc.
Garneau offers structural metal fabrication services to a broad range of industries. We'll provide the solution so that your project is done right, on time and on budget.