Enroll in the HSEP
This presentation was delivered yesterday by Diana Rae from the WSIB to the Prevention Employers Partnership (PEP).                                                                  It outlines our provincial compensation agency's Health and Safety Excellence Program (HSEP).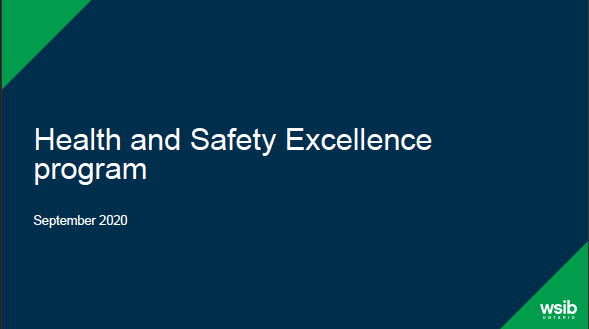 It replaces the WSIB's 3 previous programs, Safety Groups, Workwell and SCIP
It is made up of 36 topics which are also elements of a health and safety management system; for construction employers, the HSEP can lead to CoR certification
There are significant financial incentives for employers that participate in the program to offset their costs of participation
Employers can join at any time, intake is always open
Employers can select up to 5 topics per year
There are 5 topics that are specifically relevant to COVID
There is a free culture survey to provide employers with baseline data about their organizational culture; organizations that measure high on the culture scale have fewer LTIs
The HSEO currently has 1,882 employer organizations enrolled, of which  47% are at the advanced level, 46% are intermediate and only 7% are at the foundation level.  This may be because companies that are already high performing have health and safety management systems in place are taking advantage of the program and its rich financial rewards.
We highly encourage enrollment in HSEP, especially you smaller members that can really use the help and guidance.
---
CLICK HERE FOR A PDF of COVID-19 SUPPORT PROGRAMS