Ontario Erectors Association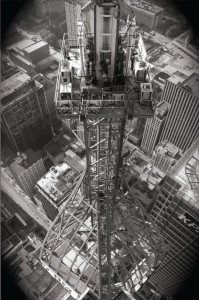 As a representative body, it's our job at the Ontario Erectors Association to be a voice for our community. We have a longstanding history of advocating for our members and promoting the benefits of employing unionized workers. We're a connector and facilitator, a negotiator and a proponent of linking clients with the best Ironworker talent available. We believe our workforce is deserving of being selected for projects ahead of any others because they are better trained, they uphold exceptional safety standards and are dedicated to outstanding workmanship.
More than just a bargaining agent, we devote our efforts to a range of responsibilities, which includes sitting on advisory boards, improving health and safety measures, working with the Ontario College of Trades and safeguarding pension interests. When disputes arise, we help to navigate and negotiate agreeable solutions, while we will always promote the employment of our union workers over non-union staff. Whatever we can do to improve the workmanship and the standards within our industry, the OEA will be on the front lines furthering our 'Built to Last' ideals, however we can.
Building for the Future
Our membership understands better than anyone the benefits of building for the long term. That's why we continually invest back into our industry to strengthen our resources and foster the next generation of ironworkers.
We make a significant financial commitment to a range of programs that advance recruitment, enhance training, bolster apprenticeships, improve safety measures and promote more specialized skills. That dedication to fortifying ourselves from within ensures that we earn the long-term trust of our industry partners while making absolutely clear that the most reliable professionals for the job will always be found right here, period.
Collaborative Action
Ironworkers share in a long, strong and proud tradition wherever they operate, and it's our responsibility to uphold those high standards of collaborative action and workmanship in our profession. The OEA believes that solidifying the ties between industry professionals and union partners is to the benefit of everyone involved. That emphasis on cooperation and partnership is why our industry distinguishes itself and is a key reason why we have not undergone a strike action since 1967.
Current OEA Board Members
President – Jack Mesley – Ontario Erectors - Collingwood
Chair – Sherman Ladner – Director – Alberici Group - Burlington
Secretary – John Jurcik –  President  of Venshore Mechanical – Thunder Bay
Board Member – Walter Koppelaar – President   Walters Inc. - Hamilton
Board Member – Mark McCormick –President   Mccormick-Campbell Steel Services Inc.
Board Member – Larry Brokenshire – Vice President – Aecon Industrial
Board Member – Spencer Fox –President  ES Fox – Niagara Falls