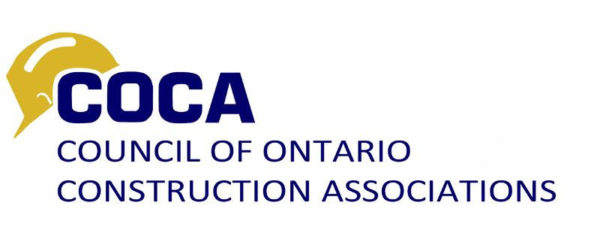 COCA Newsletter – April 2018
National Day of Mourning – A Time to Remember and Recommit
April 28th has been designated as the national Day of Mourning. Ceremonies will be held in cities and towns across Canada to remember those who have lost their lives as a result of workplace accidents or occupational disease. These ceremonies are also a time to renew the commitment to improve health and safety in the workplace and prevent further injuries, illnesses and deaths.
Minister Ignores Advice, Proclaims WSIA Amendments
Against the advice of the Ontario Business Coalition and others, the Minister of Labour proclaimed schedule 5 of Bill 18 Stronger Workplaces for a Stronger Economy Act 2014. Schedule 5 amends the Workplace Safety and Insurance Act (WSIA) allowing the costs of an injury suffered by an employee of a temporary employment agency (TEA) while working at a TEA's client employer's workplace to be transferred to the client employer.
New CPO Meets with the Provincial Committee
The Province's new Chief Prevention Officer Ron Kalusky met with the Provincial Labour Management Health and Safety Committee at its monthly meeting on April 4th.
Schedule of Ministry of Labour Construction Blitzes for 2018/19
The Ministry of Labour schedules their enforcement blitzes and initiatives and publishes their schedule well in advance to give employers time to review their obligations and make the necessary preparations such as changing procedures, providing training, upgrading equipment and otherwise.
New Regulation Extends Terms For OCoT Trade Board Members and Adjudicators
The Minister of Labour has made a regulation that allows certain members of Ontario College of Trades' Trade Boards and Roster of Adjudicators to be eligible to serve beyond their mandated six consecutive year maximum terms.
Support Steps for Life
Every working day, 3 Canadian families will receive the news that a loved one is not returning home from work that day. Their families, friends and co-workers will rally together to be there for one another.
The Association for Workplace Tragedy Family Support, known as Threads of Life, supports the healing journey of families who have suffered from a workplace fatality, traumatic life-altering injury, or occupational disease.
COCA's 2017 Year In Review
COCA's 2017 year in Review includes A Message from the Chair, The President, A Review of the Work by COCA's Committees and a look back at COCA's 2017 events.
Read the Annual Review online.
Ontario Election – The Tale of the Polls
A Mainstreet Research survey of 2003 Ontarians aged 18 and over, fielded between March 17th and March 18th before the Liberal's Speech from the Throne and published on March 20, 2018, and revealed the following:
Ontario election – Who's Running, Who's Not
There will be 124 seats in the Ontario Legislature up for grabs in the June 7thgeneral election as 17 new ridings have been added to the provincial map of electoral districts.
According to an iPolitics article published on April 3rd, so far the PCs have nominated candidates in 98 ridings, the Liberal 80, the NDP 60 and the Greens 57. A number of nomination meetings have been held since then but the PCs remain out front with the most nominated candidates.
Are You Ready to Consider the Greens?
For voters who can't bring themselves to vote for Kathleen Wynne, don't want a repeat of the early '90s with the NDP in charge and who don't like the smell of the Trump-like Doug Ford ("Stop the Gravy Train" = "Drain the Swamp"), are you ready to take a chance on the Greens?
Is your business up for the challenge of fighting climate change?
Taking collective action on climate change has never been as critical as it is today. From floods to severe storms, Ontarians are already experiencing the impact of climate change. The recently announced GreenON Challenge Program from the Green Ontario Fund (https://www.greenon.ca/) creates opportunities for businesses and organizations to make a meaningful, long-lasting difference.
The Green Ontario Fund acts as a non-profit green bank, designed to help businesses and residents finance energy efficient projects – like high-performance windows or low-carbon heat sources – using proceeds from Ontario's carbon market.