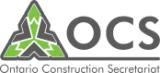 EYE ON ICI – OCS Newsletter – April 2018
APRIL 28: A NATIONAL DAY OF MOURNING
April 28th – A day where flags fly at half-mast, a day of ceremony, a day to remember and recognize the lives needlessly lost, a day to commit to protecting workers and preventing further workplace tragedies.
2018 STATE OF THE INDUSTRY & OUTLOOK CONFERENCE RECAP: KEEPING STAKEHOLDERS INFORMED AND ENGAGED
With keynote speakers such as Peter Hall, Vice-President and Chief Economist for Export Development Canada and John Ibbitson, author and senior political writer for The Globe and Mail, the OCS Annual State of the Industry and Outlook Conference hit a new high with Ontario's construction industry stakeholders.
2018 CONTRACTOR SURVEY: BUSINESS CONFIDENCE REMAINS STRONG
The business outlook for Ontario contractors in 2018 continues to be optimistic according to results of the annual Contractor Survey conducted by the Ontario Construction Secretariat (OCS) with nearly a third of contractors expecting to be busier this year than they were in 2017. The survey also shows that just over half of contractors expect to do the same amount of work as they did last year.
ICI PERMIT VALUES INCREASE IN HALF OF CENTRAL ONTARIO'S METRO AREAS
This is the Ontario Construction Secretariat's update on local building permits in Ontario. Included are local updates for Central Ontario, for the following cities:
Barrie, Brantford, Guelph, Hamilton, Kitchener-Cambridge-Waterloo, Oshawa, St. Catharines-Niagara, and Toronto.
View current economic indicators for Ontario such as Construction Employment, CPI Inflation & Unemployment Rate.
For any enquiries or information related to Eye on ICI Newsletter or OCS, please contact the OCS at info@iciconstruction.com.