The latest news from IMPACT – Aug 03 2020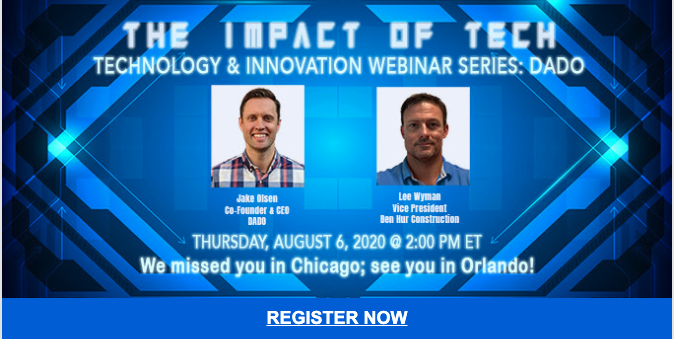 Reporting COVID-19 to Iron Workers Safety & Health Department
The Iron Workers (IW) Safety and Health Department has developed reporting tools to help prevent the spread of COVID-19 on jobsites in the U.S. and Canada. They have been distributed to partner contractors and Iron Workers local unions and district councils.
Please call 1-833-355-SAFE (7233) or email safety@iwintl.org from the United States or Canada for immediate assistance with workplace safety incidents, including those related to the COVID-19 pandemic.
Please click below for an editable PDF form to report suspected or confirmed COVID-19 cases to the safety department via e-mail. Please note that this form is for internal use only.
Contractor Resources
Structural Bolting Clinic
Applied Bolting Technology, the nation's only manufacturer of quenched and tempered Direct Tension Indicators, will be hosting a virtual clinic for ironworkers. It will focus on all modern structural bolting methods and illustrate proper and improper techniques affecting structural bolting. Register here
Canadian Economic Update
Finance Minister Bill Morneau unveiled an economic and fiscal 'snapshot' on Wednesday, July 8, which takes the place of a federal budget. The report provides an overview of Canada's COVID-19 response plan. Read more 
CARES ACT Webinar Series
A survey revealed that 99% of the contractors who participated in the IMPACT CARES Act webinar series found it helpful in obtaining government assistance. Missed the webinar series? Watch it here
Ironworker Resources
Back-to-Work Safety Items
Protect yourself and others on the jobsite with these protective back-to-work safety items. These are just a few examples.
More information
Iron Workers & IMPACT In the News
IMPACT Town Hall
To address questions about working on jobsites amid the COVID-19 pandemic, the Ironworker Management Progressive Action Cooperative Trust hosted a virtual town hall forum titled, "Returning to Work: COVID-19 Issues and Answers." Read more
Latina Ironworkers
Consuelo Poland from Iron Workers Local 22 in Indianapolis was the only woman and the only woman of color in her class when she got a welding certificate seven years ago in Michigan. The local represents more than 1,000 members in Indianapolis, Terre Haute, and Lafayette. Only 11 of those members are women. Read more
The Iron Maidens
Many ironworkers adorn their hard hats with stickers, but in St. Louis' Iron Workers Local 396, there's one that only the women slap on: the "Iron Maidens" sticker. The union has more than 1,800 members in the area, but only 45 or so are women; these are the "Iron Maidens." Read more
Industry News
HEROES Act Includes Relief for Multiemployer Pension Funds
The House of Representatives passed the Health and Economic Recovery Omnibus Emergency Solutions Act (HEROES Act) in May. It likely gives direction on a potential bipartisan rescue of the multiemployer pension system. Read more
OSHA's COVID-19 Investigations and Silica Guidance
OSHA published a new compliance directive to ensure "uniformity" in the agency's inspection and enforcement procedures regarding crystalline respirable silica. OSHA has been updating the construction industry about how employers should respond to actual and suspected cases of COVID-19 and how it will respond to violations of health and other safety standards. Read more
House Passes Water Infrastructure Bill
An important federal infrastructure measure has moved another step forward, with the House's approval of a bill authorizing at least $8.6 billion in federal funds for 38 new Army Corps of Engineers construction projects, including flood and storm protection, river and port navigation and environmental restoration improvements. Read more
Best Face Coverings for Preventing Jobsite Coronavirus Spread
While any face covering will help contain the usual droplets that come from coughing, sneezing and even speaking, there are things to look for in a face covering to maximize jobsite safety from the coronavirus. Read more
Upcoming Events
Leadership Primer: Learning the Basics of How You and Others Think, August 4-5, Online
Getting Things Done© Workshop: Mastering Personal Productivity, August 13, Huntsville, AL
Industrial Info
IMPACT provides Industrial Information Resources' (IIR) PEC reports, which identify specific project-related data, to IMPACT participants. Learn More
Example:
Monahans Lockridge To Waha Grassroot Natural Gas Compressor Station
IMPACT provides complementary Dodge Pipeline access to IMPACT participants. Learn more