IMPACT Newsletter – May 2020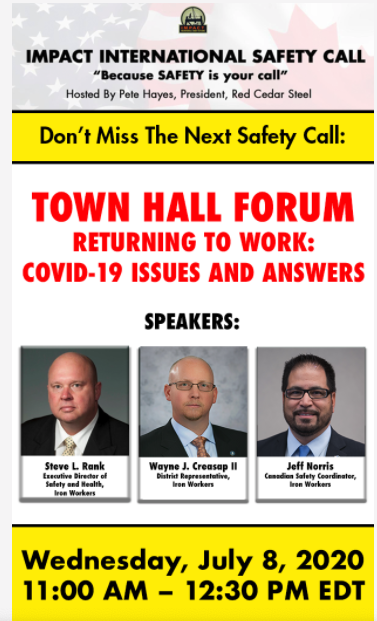 Project Highlights
Industrial Info
Dodge Pipeline
Spotlight on Safety, Training and Leadership
News and Resources For Contractors
News and Resources For Ironworkers
IMPACT and Iron Workers In The News
Upcoming Events
Reporting COVID-19 to Iron Workers Safety & Health Department
The Iron Workers (IW) Safety and Health Department has developed reporting tools to help prevent the spread of COVID-19 on job sites in the U.S. and Canada. They have been distributed to partner contractors and Iron Workers local unions and district councils.
Please call 1-833-355-SAFE (7233) or email safety@iwintl.org from the United States or Canada for immediate assistance with workplace safety incidents, including those related to the COVID-19 pandemic.
Please click below for an editable PDF form to report to the safety department via e-mail, ironworker members who might be infected or confirmed with the Coronavirus.
Please note that this form is for internal use only. It helps track information on COVID-19 cases and provide weekly updates to the IW leadership on the number of affected ironworkers and contractors.
Safety, Leadership and Training
Safety Spotlight
OSHA Issues Guidance for Recording COVID-19 Cases
OSHA has issued temporary guidance for contractors clarifying under what circumstances a case of COVID-19 on the job site should be recorded as an illness on OSHA Form 300.
Training Spotlight
IMPACT Training in June
Live Online Training: Getting Things Done©: Mastering Personal Productivity
Leadership Spotlight
6 Steps for Recession-Proofing Your Company
Lessening the impact of a future recession on your company depends on planning. A team's ability to prepare in advance by taking steps that lessen the recessionary impact is key for small businesses everywhere.
SBA Provides Safe Harbor for Paycheck Protection Program Loans Under $2M
The United States Treasury and Small Business Administration issued additional guidance concerning the Coronavirus Aid, Relief and Economic Security Act's Paycheck Protection Program. Read more
How Construction Firms Can Prepare for a Potential Second Wave of COVID-19
Although the U.S. economy is slowly starting to come back to life, contractors can't let their guard down just yet. Consider these precautions. Read more
California Opens Door Wider To COVID-19 Workers' Compensation Claims
Business groups are worried about California Gov. Gavin Newsom's May 6 executive order that says workers who contract COVID-19 on the job may be eligible to receive workers' compensation. Read more
How Will Clients Approach Contracts Post-pandemic?
How might owners change their preferred contract delivery methods or, at the very least, the terms to help them decrease risk and maximize flexibility? Read more
TAUC: Craftworker Shortage Was Easing Slightly Before COVID-19 Crisis Hit
A new study conducted by TAUC found that the craftworker shortage was easing slightly before COVID-19. Read more
Contractor News & Resources
IMPACT Webinar Series
In case you missed the highly informative live webinars IMPACT hosted for your benefit, please click below:
Get Answers to Your Government Stimulus Questions
How to Fill out the Online CARES Act Applications Successfully
What you need to know about Federal & Provincial Financial Aid
COVID-19 Tax Impact: How to survive and Conquer | Presentation
PPP Loan Forgiveness | Presentation
Return of the Economist: COVID 19 Economic Update | Presentation
Coronavirus Small Business Loan Resources
The U.S. Small Business Administration (SBA) now maintains an online list of active Paycheck Protection Program (PPP) lenders, organized by state.
For information about all of SBA's Coronavirus/COVID-19 relief options – Read More Here