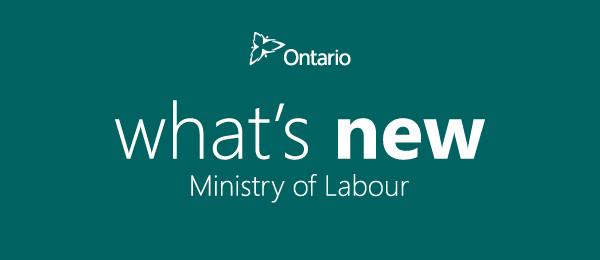 What's New – Ministry of Labour – May 2019
New and young workers health and safety initiative – May 1 to August 30
Did you know that new and young workers are three times more likely to be injured during their first month of employment? The Ministry of Labour is conducting an initiative to keep new and young workers safe on the job. The ministry will raise awareness of hazards and check on compliance in the industrial sector.
New employment standards online tool
The ministry has launched the Employment Standards Self-Service Tool. The tool is helping Ontario employers and employees understand and comply with the Employment Standards Act. It also calculates whether money paid to an employee meets the minimum standards.
Victoria Day public holiday – May 20
Many employees got the day off with pay on Victoria Day. Some employees were required to work that day. If you worked, you may be entitled to one-and-a-half times your regular pay rate. Learn about your entitlements and if special rules apply to you.
Read about special rules and exemptions
Students to visit small businesses
Students will visit more than 10,000 small businesses this summer, distributing free printed resources to raise awareness of workplace laws. They will also be conducting surveys to get feedback from small business owners on the ministry's tools, services and activities for small businesses. This will be the seventh year in a row the Ministry of Labour has hired students to conduct outreach at communities across Ontario. Small businesses can also obtain information, free resources and tools by going to Ontario.ca/ResponsibleEmployers.
Student video winners announced
Grab some popcorn and view the winning videos of "It's Your Job" contest! Ontario secondary school students submitted videos of up to two minutes on a variety of workplace health and safety topics. The winners and their schools get cash prizes. The top entry went to the national finals for a chance to win more prizes! View the national winners, including the winning Ontario video: "Training Works".
Working outdoors
Summer is just around the corner. This could put outdoor workers at risk of certain hazards. Employers have a duty to protect workers from these hazards. Learn about the hazards and how to comply with workplace health and safety laws.
Carbon monoxide hazards in parking garages
Carbon monoxide poisoning can be a serious hazard for workers using gas-powered pressure washers in enclosed and underground parking garages. Every spring many parking garages are cleaned using these washers. This is done to remove dirt and debris accumulated over the winter months. Learn about the hazards.
Read more | Join the conversation
Mine rescue competition – June 4 to 7, 2019
Teams from across Ontario will test their knowledge, firefighting, first-aid response, emergency equipment and decision-making skills in a simulated underground emergency at the 2019 Ontario Mine Rescue Competition. The event will be held at Newmont Goldcorp's Red Lake Gold Mines in Red Lake, Ontario.
Free: Workplace Mental Health Symposium – May 27
Learn, reflect and talk about workplace mental health, stress and injury prevention at Mayday, Mayday, a free symposium hosted by the Ontario Health Clinics for Ontario Workers (OHCOW) at the downtown Toronto YWCA. Space is limited.
2019 Health and Safety Index
The Workplace Safety and Insurance Board (WSIB) recently released its 2019 Health and Safety Index, which measures the overall health and safety of Ontario's workplaces. The index looks at prevention, empowerment, workplace culture, enforcement and injuries. This data is combined into a single, evidence-based measurement.
---
What's New is published by the Ministry of Labour
Ontario Ministry of Labour
400 University Avenue, 12th Floor
Toronto, ON M7A 1T7
Canada