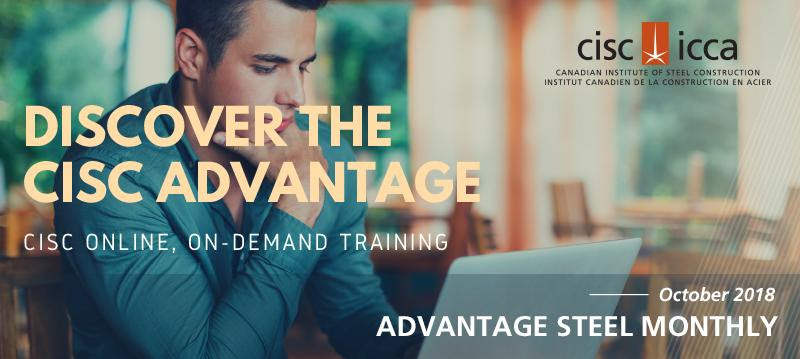 Advantage Steel Monthly – October 2018
Features
Canadian Government Announces New World Safeguard Surtax on Imported Steel
CSteelDay 2018 Showcased the Best of Our Vibrant Structural Steel Industry Yet Again! View #SteelDay2018 photos inside
---
Upcoming Regional Events
The 2019 Canadian Steel Conference
SAVE THE DATE!
Date: October 2-4, 2019
Location: Hotel Bonaventure, 900 De La Gauchetiere W., Montreal, QC
The CISC's Canadian Steel Conference is the Canadian steel industry's one and only business development and executive networking event and the largest gathering of senior level leaders and decision makers in the industry.
Date: November 6, 2018
Location: Parliament Hill, Wellington St., Ottawa, ON
Help support the Canadian steel construction industry!
A national delegation of CISC Members & Associates will be in Ottawa to meet with Parliamentarians to urge action on key issues affecting the Canadian steel construction industry.
---
Quebec Region:
Date: November 8, 2018
The Design Awards of Excellence competition is unique in our industry.
Highlight the best achievements in steel construction, for their beauty, uniqueness and originality
Highlight project excellence and Quebec expertise
Promote work and collaboration between professionals
---
Manitoba & NW Ontario Region:
Date: April 10, 2019
Location: RBC Convention Centre, 375 York Ave., Winnipeg, MB
SAVE THE DATE!
Keep an eye out for more details to come!
---
Alberta Region:
Date: November 15, 2018
Time: 7:30 a.m. to 9:30 a.m.
Location: Glenmore Inn & Convention Centre, 1000 Glenmore Ct. SE, Calgary, AB
Speakers from Stantec's Calgary office will be discussing Disruptive Market Forces – Leverage their impact in process and practice of construction!
---
Course Spotlight
What's New – Handbook 11th Edition and CSA S16-14
This 6 hour course offered in 9 modules covers changes in CSA S16-14 and the design of steel members and elements using the 11th Edition of the Handbook of Steel Construction. Registrants can take all 9 sessions or just the CSA S16-14 changes.
Self-Paced Learning
Steel Bridges: Design, Fabrication, Construction
(Updated CAN/CSA S6-14)
Industrial Building Design
(Updated to CSA S16-14)
Seismic Design of Industrial Steel Structures + CSA S16-14 Annex M
(New)
Single Storey Building Design
AESS Series
(Bundle Pricing)
Fire Protection of Steel Structures
Statics and Strength of Materials
Budget Pricing for Steel Structures
Job Board
Connect With Us! #WeAreSteel