The Iron Messenger: An IMPACT Publication, September 2018 Issue
Industrial Info
IMPACT provides Industrial Information Resources' (IIR) PEC reports to partner Local Unions and District Councils. PEC reports identify specific project related data. Learn More
Two examples:
Dodge Pipeline
IMPACT provides complementary Dodge Pipeline access to all partner contractors and local unions. Learn more
Two examples:
---
Project Highlights
Union Terminal-Cincinnati Museum Center
cHc Fabricating Corporation in Cincinnati with Iron Workers Locals 44 (Cincinnati), 290 (Dayton, Ohio) and 172 (Columbus, Ohio) renovated the historical landmark Union Terminal Cincinnati Museum Center. The scope of the project included over 60,000 pounds of temporary platform, trolley beams and rigging steel, over 150,000 pounds of permanent steel and several thousand feet of weld. Ironworkers erected over 60,000 pounds of temporary building platforms, trolley beams and rigging steel to move the beams from the ground to upper level to install steel under the third floor. Learn more
Saskatoon Traffic Bridge
Supreme Steel with Local 771 (Regina, Saskatchewan fabricated and erected the 1,100 ton, Saskatoon Traffic Bridge replacement 110 years after the original bridge was erected in 1907. Supreme Steel also completed engineered erection plans, allowing for work to be performed safely and effectively over the South Saskatchewan River. Learn more
Safety, Leadership and Training
Safety Spotlight
OSHA Eliminates 90-day Grace Period for Outreach Trainers
As part of its continuing effort to improve the Outreach Training Program, OSHA will be eliminating the authorized trainer "90-day grace period" described in Sections III.B.1.,2, and 4 of the OSHA Outreach Training Program Requirements.
Training Spotlight
IMPACT Training in October
Leadership Spotlight
Mitigating the Risk of Unforeseen Site conditions
No matter how careful contractors may be, there is still a chance that something below the radar, also known as unforeseen site conditions, will occur after starting work.
Read more
---
US Construction Spending Rose 0.1% in July
Spending on U.S. construction projects ticked up 0.1 percent in July, led by an increase in home building and the publicly funded building of schools and highways. The Commerce Department said that the slight July increase brought total construction spending to a seasonally-adjusted annual rate of $1.32 trillion, 5.8 per cent higher than a year ago. Read more
Big Capital Bets Big On Construction Technology
Venture capitalists are buying into new construction technologies in a big way, investing more than $1 billion in global construction technology startups in the first half of 2018 – a record high – according to JLL data. The investment volume of 2018 is already up nearly 30% over the total investment for all of 2017, JLL says in its State of Construction Technology report. Read more
Construction Labor Shortage Exacerbates Safety Issues
The pervasive construction industry labor shortage could also be compromising worker safety, reveled the Q3 2018 USG Corporation + U.S. Chamber of Commerce Commercial Construction Index report released this week. Of the contractors surveyed, 80% responded that they were either highly (26%) or moderately concerned about the safety risks created by fewer skilled workers on their job sites, most likely because construction jobs require skills that contribute to a safe workplace. Read more
---
Ironworker News & Resources
Illinois State Society Honors Iron Workers General President
Iron Workers General President Eric Dean was honored this Thursday with the first ever Illinois Labor Leader of the Year award by the Illinois State Society of Washington DC. The award recognizes Eric Dean's contributions to labor in his home state and comes as Illinois prepares to celebrate it's bicentennial anniversary of statehood in 2018. Visit website
2018 Iron Workers Apprentice Competition
The North Central States District Council hosted the Outstanding Iron Workers Apprentice Competition and Training Coordinator Meeting in Minneapolis, Minn., September 19-22. The hands on competition was held at the Iron Workers Local 512 training center in St. Paul, Minn.
Iron Workers Local 433 Apprentice Graduation
Eighty apprentices graduated from the Iron Workers Local 433 in Los Angeles this month.
---
Contractor News & Resources
2018 Project of the Year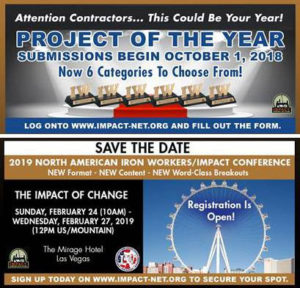 ---
Best Practices for Commissioning and Startup
Commissioning and startup (CSU) success is a key driver of overall capital project success. The research team identified 16 critical success factors (CSFs) that drive commissioning and startup success, and then characterized these factors with recommended timing of implementation and common barriers to their accomplishment. The team also identified how the 16 commissioning and startup CSFs are linked to the Planning for Startup work process model developed previously by RT-121. Finally, the team generated a user-friendly CSF implementation checklist to help project teams manage commissioning and startup efforts and identified five innovative commissioning technologies (ICTs) to leverage project team efforts for improved commissioning and startup success.