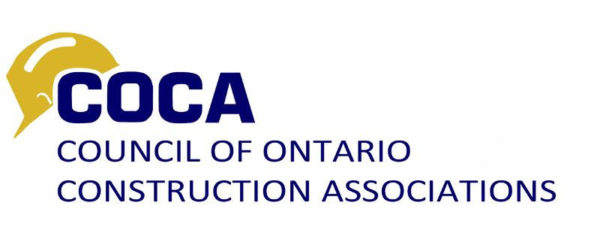 COCA Newsletter – October 2018
Welcome to COCA's monthly Newsletter. Unless noted otherwise, all articles written by COCA President, Ian Cunningham.
---
Scotiabank Report Predicts Spending Cuts
A recent report published by Scotiabank Economics provided some reasons to be optimistic about Ontario's economic performance while predicting spending restraint on the part of the provincial government. Among the bank's report's findings are the following:
Growth will slow in 2018-19 to 2%
A decline in consumer spending will be offset by increases in business investment
Ontario will enjoy good population growth from interprovincial migration, from immigration a large proportion of which will be economic immigrants and from natural population growth
The signing of the USMCA has removed some risks to growth
Ontario's tech sector will continue to be a driver of growth
Private sector capital investment will contribute to growth
Non-residential construction will begin to ease in 2019
Sustainable job creation will ease in 2019 largely the result of waning household spending
The province's debt and deficit are a drag on growth
Spending restraint on the part of the provincial government is very likely
Home buying will stay at elevated levels
Ontario's major cities are gaining international reputations
Housing affordability and the government's fiscal circumstances remain as risks
The full report is available by clicking on the following link: https://gbm.scotiabank.com/scpt/gbm/scotiaeconomics63/on_outlook_2018-10-10.pdf
---
First Hundred Day – Ford's Accomplishments
Premier Ford's first hundred days in office were celebrated at a rally held on the night of October 9th in the heart of Ford Nation, Etobicoke. Some of our new premier's accomplishments are the following:
Freezing discretionary spending across all ministries
Ending the strike at York University
Causing the resignation of the Hydro One CEO and replacing the company's board of directors
Reducing the size of the Toronto city council from 48 councillors to 25
Introducing legislation that, if passed, will end the cap-and-trade system; joining with a number of other provinces to fight the federal government's carbon tax
Promising not to implement the planned increase in the minimum wage from $14/hour to $15/hour on January 1, 2019
Engaging an independent auditor to conduct an audit of the government's finances; striking an Independent Financial Commission and a Select Committee of the Legislature to review the financial performance of the previous government;
Halting discretionary public sector spending;
Letting the private sector in on the legal cannabis market;
Scrapping the Drive Clean program;
Lowering the minimum price at which beer can be sold to $1.00 i.e. "buck-a-beer"
To celebrate, our new government published a nifty timeline of all of their numerous achievements, which is available at the following link: https://www.ontario.ca/page/government-people#timeline
---
Torys still Lead, NDP declines, Liberals Up in Latest Abacus Poll
Here are some interesting findings from a public opinion poll conducted by Abacus Data and published on October 9th:
"36% of committed voters would vote PC (down 5 since the election), 29% would vote NDP (down 5) while Liberal support is up 5 to 24%."
"PC support is fairly consistent across the province ranging from a high of 39% in the GTA (postal codes starting with L) to a low of 32% in Metro Toronto. The NDP is stronger in Metro Toronto and Northern Ontario, and trail both the PCs and Liberals in the region surrounding Toronto. The Liberals continue to struggle outside of the GTA and Metro Toronto."
"About half of Ontarians still have a negative impression of the Premier, largely unchanged since the week before E-day."
"Andrea Horwath, much as she was throughout the election campaign, is viewed more positively than negatively and has the best ratings of all provincial party leaders. Despite this, her positives are down 9 points to 35% since her peak at the end of May."
"Most Ontarians (76%) say Doug Ford is governing about as they expected him to. This feeling holds true regardless of vote choice in the last election."
36% of New Democrat voters say they would keep the current PC government instead of reverting back to the Liberals confirming that intense desire for change that swept the Wynne government from power.
Here's a link to the poll:
http://abacusdata.ca/ontario-pcs-lead-amidst-slight-liberal-recovery-and-ndp-slide/
---
Line-by-Line Audit Recommends Transformation in Expenditure Management
Ernst & Young LLP (EY) was engaged by the Treasury Board Secretariat (TBS) of the Government of Ontario to conduct a line-by-line audit of Ontario Government expenditures and expenditure growth across all ministries over a fifteen year period from fiscal year 2002/03 to fiscal year 2017/18. EY recently completed the review and submitted its report to TBS. The title of this report "Managing Transformation: A Modernization Action Plan for Ontario" suggests the general direction of their findings. The Government's objective is to achieve a 4% efficiency improvement.
Among the reports summary findings are the following:
Per capita spending has increased by 32% over the period
Increases in expenditures have outpaced population growth
Total provincial debt increased by 87%
Interest on the debt is Ontario's 4th largest expenditure, higher than the total operating expenditure of the total Ontario Public Service (OPS)
There was no real change (increase/decrease) in the OPS operating expenditures over the period
Real growth in Transfer Payments including to the Broader Public Sector (BPS) over the period accounts for 99.8% of the real growth in total operating expenditures
90% of total operating expenditures are spent through Transfer Payment agreements
Significant efficiencies can be implemented that will not compromise outcomes and can in fact improve results
The Province must develop a better framework for public expenditure management
Strong leadership will be required at the centre to strengthen coordination across the Government and its BPS partners
There must be a renewed focus on efficiencies across government ministries and the BPS
A Modernization Action Plan should be developed to define how this will all work
For the full report, click on https://files.ontario.ca/ey_report_2018_en.pdf
---
COCA's 2017 Year In Review
COCA's 2017 year in Review includes A Message from the Chair, The President, A Review of the Work by COCA's Committees and a look back at COCA's 2017 events.
Read the Annual Review online.
---

Out With The Old, In With The New: 2018 Year in Review
What to Expect in 2019
In 2018 we experienced significant, material change to employment and labour law in Ontario and across Canada and 2019 looks to be more of the same! Join us as we discuss how these changes impact employers as well as proactive steps to minimize the negative effects.
Topics include:
Legislative Update: There have been significant changes to employment standards and occupational health and safety legislation in 2018. Are you aware?
Drugs and Alcohol: Employers are understandably concerned about the potential impact of cannabis legalization. We will review recent cases on drug and alcohol testing and use in the workplace and how an employer can proactively address this issue.
WSIB Update: Learn about the new Chronic Mental Stress policy and how it may impact the handling of workplace harassment claims. We'll also address changes to WSIB rates and premiums in 2019.
Case Law Roundup: A review of some of the most important labour, employment and human rights decisions of 2018 and what they mean for your operations.
Dates: Wednesday December 5, 2018, 7:30 – 9:30 a.m.
(Breakfast at 7:30 a.m.; program at 8:00 a.m.)
Venue: Mississauga Convention Centre – 75 Derry Road West, Mississauga
Cost: Complimentary
RSVP: By Monday November 26, 2018 (spaces limited)
Details, including how to register, can be found on the back page of our newsletter and on our website.
---
Pinchin Complimentary Sessions
Pinchin Ltd. offers FREE learning opportunities across the province each month. To see a list click here.