Fall 2017 issue of Trades Today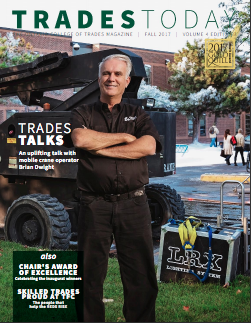 Trades Today – Fall 2017
Published on Sep 28, 2017
Trades Today Fall 2017 Volume 4, Edition 3
Taking the trades to a whole new level
We talk with mobile crane operator, Brian Dwight of Dwight Cranes, about his pathway to success. From his struggles after his first crane purchase to lifting lights for the best movie productions around the world.
Read his story on here.
---
Celebrating the skilled trades that make movie magic! Page 8.
---
Introducing the inaugural winners of the Chair's Award of Excellence.  Page 4.
---
Speaking with the skilled trades professionals at BMO Field that keep the REDS on the green.  Page 12.
---