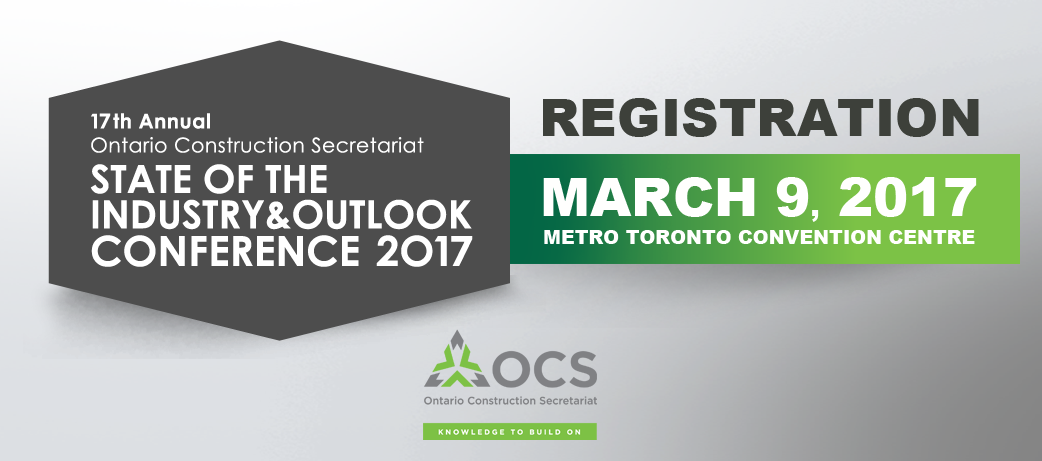 OCS Announces Program for the 17th Annual State of the Industry and Outlook Conference
OCS Announces Program for the 17th Annual State of the Industry and Outlook Conference
The Ontario Construction Secretariat (OCS) is pleased to announce the program agenda for its 17th Annual State of the Industry and Outlook Conference.
The conference will take place at the Metro Toronto Convention Centre in downtown Toronto, Ontario on Thursday March 9, 2017.
This is a must attend event for construction industry professionals who want to hear where the construction industry is headed in 2017.
This year we are exploring the theme "Building the Infrastructure Projects that will Transform Ontario's Economy".
 Professor Mike Moffatt (Ivey Business, Western University) will set the stage by unraveling economic indicators and addressing the impact of the global 'low-growth' economy.
Katherine Jacobs (Director of Research, Ontario Construction Secretariat) will share findings of the 2017 Annual Survey of Contractors.
You won't want to miss our distinguished infrastructure panel, moderated by Janet Ecker. Jeff Lehman (City of Barrie), Jeff Moore (Infrastructure Canada) and Lou Serafini (Fengate), will have a lively discussion about infrastructure and how it can transform Ontario's economy.
New for 2017 is a Networking Luncheon. Stay tuned for details.
If you have already registered, thank you, we look forward to seeing you.
Please consider forwarding this invitation to a colleague.
Conference Details
Thursday March 9, 2017, 7:30 am – 2:00 pm
Metro Toronto Convention Centre, North Building, Room 205/206, 255 Front Street W, Toronto
Cost (Conference & Lunch) $75 | Transferable but non-refundable
OCS hosts this half day conference and luncheon for the unionized ICI Construction Sector.
We reserve the right to review all registrations.
Do you need accommodations?
Intercontinental Toronto
225 Front Street West
Reservations:
https://aws.passkey.com/go/OCS17
or call 1 (800) 235-4670
Request group rate for "Ontario Construction Secretariat" (Deluxe King $179)
Ontario Construction Secretariat
180 Attwell Drive, Suite 360, Toronto, ON M9W 6A9
Tel: 416-620-5210  Fax: 416-620-5310  E-mail: info@iciconstruction.com WebSite: www.iciconstruction.com