EYE On ICI NEWSLETTER – January 2017
REWIND: 2016 – A YEAR OF CHANGE     

With the arrival of 2017, this is a good time to reflect on the past 12 months and how they have affected and impacted the unionized construction industry in Ontario. Read Full Article
MAKING A DIFFERENCE – THE UA WAY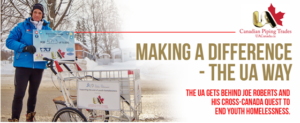 It's the middle of January – temperatures are cold, snow is blowing and Joe Roberts is in the midst of pushing his shopping cart from Newfoundland to British Columbia.  These days, he's making his way through Northern Ontario – undoubtedly the toughest part of his cross-Canada journey to end youth homelessness.   Read Full Article
RECORD HIGH ICI PERMIT VALUES MASK DECLINE IN CENTRAL ONTARIO'S INDUSTRIAL SECTOR
OCS' 3rd Quarter update on regional building permits in Ontario. Select any of the following regions.

---
View current economic indicators for Ontario such as ICI Building Permits, Construction Employment, CPI Inflation, Unemployment Rate, Non-Residential Building Construction Price Index and the Ontario & Canadian GDP.
---
THE FUTURE OF SKILLED TRADES AND CHANGING WORKPLACES
(Part 2 of An OCS Interview with Ontario's Minister of Labour)
Despite a growing public unease with the governing Liberals in Ontario, Kevin Flynn is a happy man!
He's happy as long as Premier Kathleen Wynne allows him to remain Ontario's Minister of Labour, because he feels suited to the role of Minister of Labour, and it's the job he wants in Government
---
MORE THAN BRICKS & MORTAR: THE NEW LiUNA TRAINING CENTRE  
Inset: (L-R): Joe Mancinelli, LiUNA International VP & Regional Manager for Central and Eastern Canada; Joe Keyes, GM of Construction Labour Relations Association of Ontario and President of the OCS Board of Directors; Kevin Flynn, Ontario Minister of Labour; Carmen Principato, Business Manager of LiUNA Local 506; Sean Strickland, Chief Executive Officer of the Ontario Construction Secretariat.
It's been a long time in coming – a new $19-million training facility for LiUNA Local 506 in Richmond Hill, northeast of Toronto.
"We have outgrown this facility and we need to build to keep up with the demands of apprenticeships, skills and health and safety training". Read Full Article
---
UPCOMING OCS CONFERENCE:
Register today for the Ontario Construction Secretariat's 17th Annual State of the Industry & Outlook Conference on Thursday March 9th, 2017 at the Metro Toronto Convention Centre.   An informative and well-attended half-day conference where industry experts unravel the economic indicators and assess their impact on Ontario's construction industry.  The 2017 conference will focus on the theme of 'Building the Infrastructure Projects that will Transform Ontario's Economy'.
---
For any enquiries or information related to Eye on ICI Newsletter or OCS, please contact the OCS at info@iciconstruction.com.