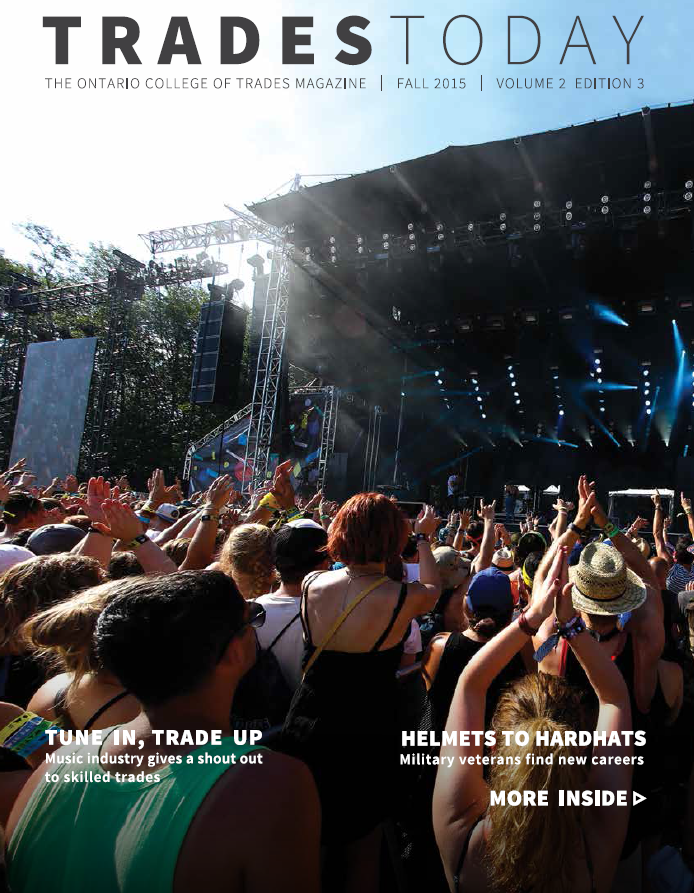 Ontario College of Trades | Fall 2015 Issue
Inside this issue:
 Tune In, Trade Up
Go backstage with trades professionals during two of the province's biggest summer music festivals.
Read the full story
and check out the behind-the-scenes action on pg. 4.
Veterans trade helmets for hardhats
Pathways to success
"I love going to work every day and not many people get to say that," says Jody Laurin. He is one of the many Aboriginal skilled tradespeople spreading the word to their peers about great career opportunities in the trades.
Learn more on pg. 2
.
Making an Im-PACT
A Toronto-based charity helping at-risk youth discover their love of skilled trades through experiential learning.
Read more
about the PACT Urban Peace Program and the people who make it happen on pg. 10.
For regular updates about your College, and to check out past issues of Trades Today,visit us online at www.collegeoftrades.ca and follow us on Twitter and Instagram.