Recognition for a SAFE JOB in IRONWORKER MAGAZINE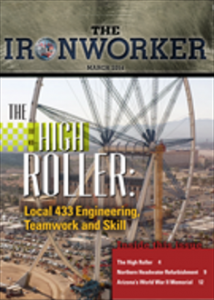 Steve Rank, Executive Director of Safety & Health, Ironworkers International is looking for Canadian content for the
Safety Edition of Ironworker Magazine
that will be published this summer.
If you are a Contractor or know of an Ironworker Contractor that deserves recognition for a SAFE JOB please feel free to have them featured in Ironworker Magazine. Steve's plan would be to feature an article on one Ironworker Contractor from each Province. If any one of your job sites has an outstanding safety record, Steve would like to hear about it.
The job write up should include location, stats, hours worked etc. If possible a job site picture would also be appreciated.  Should you happen to have a letter written by an owner that speaks to your Company's safety record on a particular project, please feel free to include it also.
This is a great opportunity to let the Industry know about your Company's dedication to job site SAFETY.
If you are interested in showcasing a Project please feel free to contact Steve Rank at 
srank@iwintl.org
 mailto:
srank@iwintl.org
 or contact my office to get additional information .