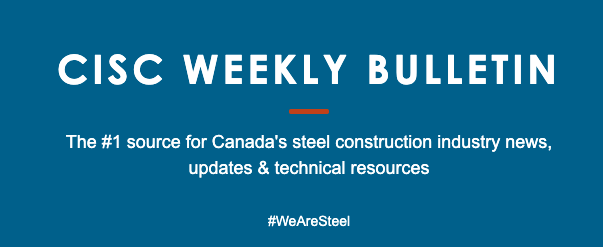 CISC Weekly Bulletin | October 23, 2020
Breaking News: Alberta Government passes Prompt Payment Legislation as Bill 37 – First Reading
Gives Alberta construction businesses the means to improve their business and continue to reinvest and grow in their communities.
#PromptPMT for a better tomorrow. #CdnPoli #ABpoli
+ Read More of the Published Article
—–
CSA S16's New Annex P on Specifying Third-Party Inspections
The new CSA S16:19 Design of steel structures introduces "Guidance for specifying third party inspection of steel structures" as an informative annex.
+ Read More of the Published Article
—–
Amazon Announces First Operations Building in Manitoba
The Manitoba government is proud to welcome Amazon Logistics to the province, Economic Development and Training Minister Ralph Eichler announced.
+ Read More of the Published Article
—–
Need Steel Detailers?
Canada's only steel construction modelling program, steel detailing technician, produces job-ready employees in 10 months.
+ Read More of the Published Article
—–
An Update on the Law of Liquidated Damages, Deposits and Other Forfeiture Clauses in Ontario
Historically at common law in Canada, a liquidated damages clause will be treated as a penalty, and not enforced for public policy reasons, unless the amount is a "genuine pre-estimate" of damages that will actually be suffered
+ Read More of the Published Article
—–
Message From The Chair
2020 CISC AGM Chairman's Address.
A majestic ivory tower dominating the skyline of a great metropolis with hundreds of people working with, developing and designing steel […]
+ Read More of the Published Article
—–
Showcase Innovative Projects in the Advantage Steel Magazine
The CISC is preparing for the upcoming issue of Advantage Steel Magazine. We invite you to share with us any unique, exciting and ground-breaking projects or research you or your organization has completed recently!
+ Submit article
—–
CISC Steel Exchange
The CISC Steel Exchange creates the opportunity for the Canadian Steel Construction community Leaders to connect and gain knowledge through targeted webinars on a variety of relevant topics. CISC is expanding its reach to all the steel construction stakeholders community to engage through this virtual approach.
Stay tuned to register for our first webinar series launching this November!
—–
Upcoming CISC Webinars
Build your career storey with Single Storey Building Design to NBC 2015
Session 1: November 3, 2020
12:00 PM – 2:00 PM (2 hrs) Alternative: December 10, 2020 12:00 PM – 2:00 PM (2 hrs)
+ Learn more
—
Dive into the essential manual of the industry with What's New CISC Handbook of Steel Construction, 11th ed and CSA S16-14
Session 1: November 4, 2020
12:00 PM – 1:00 PM (1 hr)
Alternative: December 1, 2020
12:00 PM – 1:00 PM (1 hr)
+ Learn more
—–
Boost Your Career with Courses from the CISC
Taught by leading professionals in the Canadian steel sector, these engaging webinars are perfect for rising steel professionals, engineers, architects, detailers, and other industry members.
+ Click Here to View Course Calendar
—–
CISC Job Board
Steel Detailer – Downtown Montreal
JITECH| Montreal, QC
Structural Engineer – Downtown Montreal
JITECH| Montreal, QC
View All
—–
Featured Member
ArcelorMittal
ArcelorMittal is the world's leading steel and mining company. Guided by a philosophy to produce safe, sustainable steel, it is the leading supplier of quality steel products in all major markets including automotive, construction, household appliances and packaging.
+ Learn More