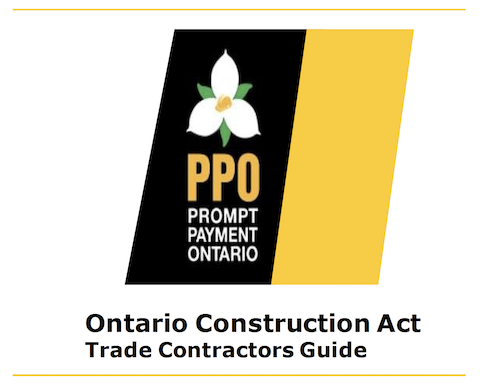 Prompt Payment Ontario's Trade Contractors' Guide to the Construction Act
PPO – Trade Contractors Guide – Construction Act
Ontario's new Construction Act (the "Act") replaces the former Construction Lien Act (the "CLA") which has been in effect since 1983.
The Act contains the most sweeping set of reforms governing construction payment obligations that the industry has seen in more than a generation.
In addition to updates to the former CLA, the Act prescribes a mandatory prompt payment regime and a system for the fast-track adjudication of payment disputes. The objectives of the Act include ensuring that payments flow down the construction pyramid faster, and that disputes over payments are dealt with much more quickly and efficiently.
It is essential that all participants in construction become familiar with the Act, in order to take advantage of their new rights and to understand their new obligations.
This Guide is primarily intended for trade contractors. Much of the time, trade contractors will be contracting with someone other than the owner, whether as subcontractors to the general contractor or as sub-subcontractors to other trade contractors. There are situations, however, where trade contractors will contract directly with an owner, for example in a multi-prime construction management project.
There will be situations where trade contractors are the ultimate payee, that is, the party at the bottom of the construction pyramid of payment flows with no downstream parties to whom they owe payments. However, there will also be times when trade contractors, like general contractors, will be intermediate payers with both payment obligations to others downstream and rights to receive the payments upon which they depend from upstream.
It is therefore very important that on each project, the trade contractor is attuned to whether they are the contractor or subcontractor as those terms are used in the legislation, and whether it is an ultimate payee or an intermediate payer. This Guide will necessarily cover these various contracting scenarios by which the trade contractor will carry on business.
Download the full PDF copy of the Ontario Construction Act here.