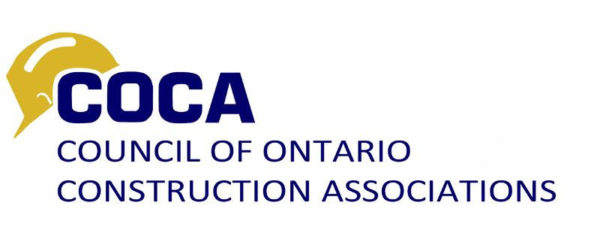 COCA Newsletter – September 2018
No Explanation for Construction Job Losses
Statistics Canada reported that employment in Ontario's construction industry dipped 1.7% shedding 8,800 jobs in August. Construction employment in July stood at 527,500 compared to 518,700 in August.  Across all sectors employment in Ontario declined by 1.1%. 80,100 jobs were lost last month after a boost of 60,600 jobs in July. Ontario's unemployment rate moved up to up to 5.7% in August up from 5.4 % a month earlier.
While COCA has no empirical data to counter the StatsCan report, anecdotally, from the stories we hear talking on the phone to contractors in the field every day, we find these numbers difficult to explain.
Premier Ford Will Not Publish Ministers' Mandate Letters
Premier Ford has confirmed that he will not be making public his mandate letters to his cabinet ministers. The mandate letter from the premier to a cabinet minister provides the minister with his or her marching orders. It details the premier's expectations of that minister, precisely what initiatives he or she should undertake in the ministry.  
Kathleen Wynne was widely praised when she published her mandate letters for the first time in 2015. In the interests of openness and transparency, the publishing of these mandate letters is now a common practice in the federal government and many provincial governments. It seems unusual that our new government which states it's committed to transparency will not be publishing these mandate letters.
Ministries in Holding Pattern as Government Attends to Urgent Business
It appears that most ministries of the Ontario government have been in a "holding pattern" as our new Government attended to its most urgent business. The first session of the 42nd Parliament began little more than a month after the June 7th general election and our new government's most urgent business included:
Consumers to See Reduced Natural Gas Price
Beginning October 1st consumers can expect to see a reduction of approximately 3.3 cents per cubic metre on the price of natural gas. Our new government has ordered the Ontario Energy Board to remove cap-and-trade related costs from natural gas rates. Gas utilities have been ordered to pass these savings on to consumers so the government anticipates savings of around $80 per year for the average household and $285 for small businesses.
Minister Calls EQAO Test Results Unacceptable
Here's what the Education Quality Accountability Office said when they released the results of their latest round of testing on August 29th,
"MATH TRENDS"
In elementary schools, the percentage of Grade 3 and Grade 6 students meeting the provincial math standard has decreased over the last five years.
COCA's 2017 Year In Review
COCA's 2017 year in Review includes A Message from the Chair, The President, A Review of the Work by COCA's Committees and a look back at COCA's 2017 events.
Read the Annual Review online.

Beware Ye of Little Faith: 
An employer's duty to act in *good faith* 
during and at the end of the employment relationship – Know your obligations and avoid unprecedented liability
   History and evolution of the employer's duty of good faith

   Recent developments and shocking damage awards

   Considerations prior to and during the employment relationship:
    When negotiating a contract

    During the employment relationship
    Considerations at the end of the employment relationship"
    Justifying the decision to terminate

    When to provide reasons

    When silence is golden

    Letters of reference
    What does the future hold?
Dates: Wednesday September 26, 2018, 7:30 – 9:30 a.m. (Breakfast at 7:30 a.m.; program at 8:00 a.m.)
Venue: Hazelton Manor, 99 Peelar Road, Concord, ON L4K 1A3
Cost: Complimentary
RSVP: By Monday September 10, 2018 (spaces limited)
Details, including how to register, can be found on the back page of our newsletter and on our website.
Pinchin Complimentary Sessions
Pinchin Ltd. offers FREE learning opportunities across the province each month. To see a list click here.