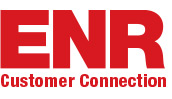 ENR Construction Engineering Today: Today's Trends & Future Outlook
ENR Customer Connection is your digital link to companies, products and project information from ENR's Special Advertising Sections. Simply click on any link to read the content provided by the section advertisers and sponsors.
Featured Title
Today's Trends & Future Outlook
Collaboration and technology making a difference Read more»
Supporting Articles
Investing in Infrastructure
Interview With Kristina Swallow, President, American Society of Civil Engineers (ASCE) Read more»
Preparing Future Leaders
Interview With Fernanda Leite, Associate Professor, Civil, Architectural and Environmental Engineering Dept., The University of Texas at Austin Read more»
Helping to Solve Atlanta's Traffic Issues
Last year, commuters in the Atlanta area spent 71 hours per person driving on congested roadways during peak travel times. Read more»
Expanding Panama's International Airport
The Tocumen International Airport, located in East Panama City, is considered the Hub of the Americas and currently operates 34 boarding gates with an average of 400 flights per day, reaching 82 destinations in more than 35 countries in America and Europe—and soon, Asia. Read more»
Vermont's 'Bridge to Nature' Enhances I – 91 Corridor
The Vermont Agency of Transportation (VTrans) has a new, award-winning, three-span, 1,036-ft arching signature bridge with a 515-ft main span over the West River that provides a visual gateway on the I-91 corridor to the beauty of Vermont's natural and recreational resources. Read more»
Innovative Top-Down Construction Method Saves Both Time and Money for LEED-Certified Green Community
Urban construction poses many problems, including tight spaces, disruptive noises and costly overruns. Read more»
For information on how your company can advertise in the ENR Special Sections, send an email for details to palanta@enr.com.