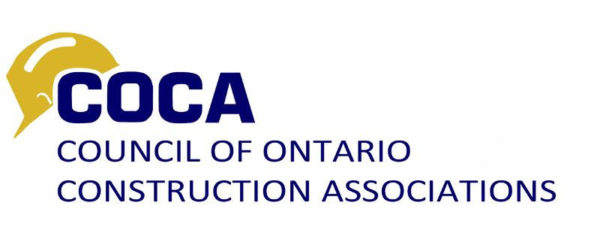 Construction in Ontario Newsletter – January 2018 Edition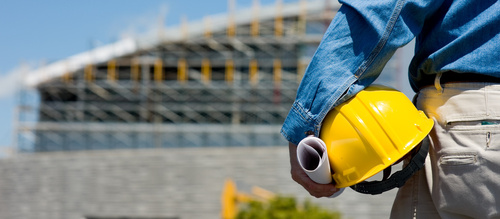 Read the complete Construction in Ontario newsletter here. 
Greetings!
The Council of Ontario Construction Associations (COCA) is a federation of construction associations; the largest and most representational group of industrial, commercial and institutional (ICI) and heavy civil construction employers in Ontario. Our member organizations represent more than 10,000 construction businesses and more than 400,000 employees.
As industry advocate, COCA brings the concerns of our members to the attention of Queen's Park and works with the government to ensure that Ontario's legislative landscape is one in which our industry can grow and prosper.
——————————–
Government Downgrades Position of Chief Prevention Officer
It must be disappointing for now Senator Tony Dean to watch his vision for a provincial health and safety system slowly being eroded.
Dean conducted a year-long review in 2010, precipitated by the tragic swing stage collapse on Christmas Eve 2009 that took the lives of four workers.  The former Deputy Minister of Labour and Secretary to Cabinet's first choice was not to transfer responsibility for accident and sickness prevention from the WSIB to the Ministry of Labour.  His preference was to create an independent organization to establish a strategy, provide strong leadership and transform the various players including the Ministry of Labour, the WSIB and the HSAs into a health and safety powerhouse.
However the disastrous experience in the 1990s with the bi-partite Health and Safety Agency caused employers to push back against that option.  So Dean recommended the creation of a Prevention Office within the Ministry of Labour, headed by an Associate Deputy Ministry reporting directly to the Minister, as a compromise.
In late 2011 George Gritziotis received an Order in Council appointment to serve as Chief Prevention Officer (CPO) for a term of five years.  Gritziotis recruited staff, built an organization, developed a system strategy and implemented a number of programs and was reappointed.
Unfortunately, late in 2017 Gritziotis was recruited away from the Prevention Office to take on the role of Registrar & CEO of the Ontario College of Trades.  So the government had to find a new CPO.  In so doing, the government downgraded the CPO position to the rank of Assistant Deputy Minister reporting to the Deputy Minister not to the Minister.
The role is no longer an OIC appointment with a fixed term; rather it has become a permanent position in the Ontario Public Service.  This represents a significant downgrade of the CPO position and an overall weakening of the government's commitment to workplace health and safety.  I can only imagine how disappointed Senator Dean must be.
——————————–
WSIB Employer Reclassifications Will Affect Some Contractors
The WSIB has reclassified some business activities, previously considered construction business activities, into Class I.  This could have a significant  impact on contractors who perform these business activities  Read more….l
The WSIB recently published revisions to its Employer Classification Manual.  The revisions were made to pave the way for the WSIB's new classification system, based on the widely used North American Industry Classification System (NAICS), which will be introduced on January 1, 2020.  Through these revisions several business activities previously classified as construction business activities have been reclassified effective January 1, 2018 into Class I.  These business activities include:
G-723-04, Asbestos Abatement
G-707-05, Industrial Maintenance and Repair Contracting
G-704-02, Testing, Inspection, and Related Services
G-748-06, Above Ground Window Cleaning
G-704-03, Office Furniture Installation
G-737-04, Custom Welding Services
To see if these changes affect your company, 
click here
 for complete details:
Some of the impacts for employers whose business activities have been moved from the construction Class G to class I include the following:
The Bill 119 amendments to the Workplace Safety and Insurance Act will no longer apply to these employers.  Their executive officers (EOs) will no longer have to be covered, and can apply to stop paying premiums.  Independent operators (IOs) who perform these business activities no longer need mandatory coverage, and can apply to opt out.
These employers will now fall under the non-construction rules for re-employment and return to work and as a consequence their re-employment  and return to work obligations will change Those employers who have fewer than 20 workers will no longer have mandatory re-employment obligations.
The experience rating program for these employers will very likely change from CAD-7 to NEER
——————————–
Reynold and Vogel Leave BLG – Join BC-based Firm
The Counsel and Co-counsel for the highly successful review that led to Bill 142, Construction Lien Amendment Act, 2017, Bruce Reynolds and Sharon Vogel, have left Borden Ladner Gervais LLP (BLG) and joined the British Columbia-based firm Singleton Urquhart to form Singleton Urquhart Reynolds Vogel LLP.
The firm will operate under the name Singleton Reynolds.  With 53 lawyers, the firm describes itself as a leader in construction, insurance, infrastructure, real estate and business law.
On its website, only Reynolds, Vogel, James Little (also a former BLG lawyer who supported Reynolds and Vogel in their review and also a newcomer to the firm), and Peter Wardle (who joined the firm at the same time as Reynolds, Vogel and Little after his former firm, Wardle Daley Bernstein Bieber LLP closed) have Ontario telephone area codes so it appears that they are opening up the firm's practice in this province.
——————————–
The Ontario General Election – Five Factors to Consider  READ MORE HERE
——————————–
MPPs NOT Seeking Re-election – Are Their Ridings Up for Grabs  READ MORE HERE
——————————–
Wynne's Popularity Improves With Minimum Wage Increase  READ MORE HERE
——————————–
Liberal Government's Significant Accomplishments in 2017 READ MORE HERE
——————————–
Bill 148: What It Means for Employers:
In June 2017, the Ontario Government introduced An Act to amend the Employment Standards Act, 2000 and the Labour Relations Act, 1995 and to make related amendments to other Acts, referred to as the "Fair Workplaces, Better Jobs Act, 2017" ("Bill 148").
Bill 148 introduces significant amendments to Ontario's Employment Standards Act and Labour Relations Act, and limited amendments to the Occupational Health and Safety Act.
READ MORE HERE