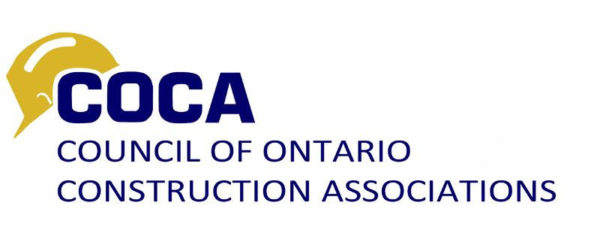 Construction in Ontario Newsletter – September 2017 Edition
Construction in Ontario Newsletter
The Council of Ontario Construction Associations (COCA) is a federation of construction associations; the largest and most representational group of industrial, commercial and institutional (ICI) and heavy civil construction employers in Ontario. Our member organizations represent more than 10,000 construction businesses and more than 400,000 employees.
As industry advocate, COCA brings the concerns of our members to the attention of Queen's Park and works with the government to ensure that Ontario's legislative landscape is one in which our industry can grow and prosper. 
Bill 142 Update
It's our understanding that Bruce Reynolds, Sharon Vogel and their team of experts have been carefully considering the feedback received from stakeholders and are developing solutions to the legitimate gaps that were identified.  At the same time, they have been thoughtfully reviewing the regulations that are being drafted by staff at the Ministry of the Attorney General that will put Bill 142, if passed, into action.
Among the big questions remaining is, how should the new law be phased-in?  It will not all come into force instantly, all sections  at the same time.  Regulations have to be drafted, consulted on and approved.  The proposed adjudication regime will take significant time to organize.  Also, what about construction projects that are already underway and proceeding under the existing statute; what will the transitions be?
There are only three Government Bills on the books as the fall 2017 session begins, the government's very highest priority,  Bill 148 (discussed in another article in this newsletter), Bill 139, Building Better Communities and Conserving Watersheds Act (which replaces the Ontario Municipal Board with local appeal tribunals) and Bill 142.  Bill 142 will be brought back to the Legislature for second reading on Tuesday, September 12 with second reading debate on the 13th and 14th. It is not known when it will be referred to Committee for public hearings and clause by clause review.  It is at this stage in the legislative process that amendments to the Bill are made and we expect, with the Reynolds-Vogel involvement in reviewing stakeholder feedback, the government will put forward several. 
But we also believe the Liberal government has a full legislative agenda planned and will push a raft of new Bills through that will improve their positioning for the June 2018 general election.  COCA is focused on pressing the government to pass Bill 142 quickly and not let it get sidelined n a log jam of new legislation that has more voter appeal.  We won't give up until Bill 142 has crossed the finish line.
Bill 148 Update
There should be no question that the amendments to the Employment Standards Act proposed in Bill 148 Fair Workplaces, Better Jobs Act 2017″ if passed (and it almost certainly will be passed) will impose many new costs onto businesses. Among those new costs are the following:
prohibiting employers from treating, for the purposes of the Act, a person who is their employee as if the person were not an employee 

a minimum of three hours' pay for shifts that are under three hours

minimum pay for being on call

a right to refuse requests or demands to work on a day that an employee is not scheduled to work with insufficient notice

pay for three hours of work in the event of cancellation with insufficient notice. 

a minimum of three weeks of vacation entitlement to employees whose period of employment is five years or more,

premium pay for work on a public holiday 

equal pay for assignment employees of a temporary help agency who perform substantially the same work as an employee of the temporary help agency's client.

Increase in family medical leave from the current up to eight weeks to up to 27 weeks

personal emergency leave for all employees, not just employees of employers who regularly employ 50 or more employees. 
The Act also amends the Ontario Labour Relations Act to make it easier for unions to organize workplaces and also increases the minimum wage to $15 in 2019 and subject to a further inflation adjustment on 

October 1, 2019

 and annually thereafter
Premier Wynne has indicated that she has listened to the concerns of small businesses and understands they will need help as these new provisions come into force.  Look for the government to propose some kind of offsets for training and possibly other measures to help small businesses adapt. 
Media reports  have indicated that the Bill has polled very positively in public opinion polls.  
Gosen Appointed OCoT Chair
At a recent meeting of the Board of Governors of the Ontario College of Trades,  COCA's  Immediate Past Chair, Don Gosen, was appointed Chair for a two year term.   Don is a master electrician, the former owner of Gosen Electric for 38 years, a Past Chair of the Ontario Electrical League, a Past Chair of the Grand Valley Construction Association, a member of the GVCA's Hall of Fame and a graduate of Conestoga College where he now works as an electrical instructor.  
Anyone who knows Don also knows how privileged OCoT is to have him as their Chair.  For the full OCoT release click onhttps://goo.gl/8g7i2x
Gritziotis Appointed New Registrar & CEO of OCoT
On Friday, September 1, 2017 the Ontario College of Trades announced that George Gritziotis has been appointed as its next Registrar & CEO.  Gritziotis is currently serving as the province's first Chief Prevention Officer with the rank of Associate Deputy Minister in the Ministry of Labour, a position he has held with considerable accomplishment and success for more than five years.  
Prior to becoming CPO, Gritziotis was the founding Executive Director of the Construction Sector Council (now BuildForce Canada) for 10 years and before that he held a number of executive positions in the private sector.  Gritziotis earned an MBA from the University of Ottawa and a BA in economics from Concordia University.  
Gritziotis is a good and long-time friend of COCA, a recipient of COCA's Industry Ally Award and we wish him the very best with his new responsibilities and challenges.  He is expected to continue his work at the MoL until the end of September and commence his new role at OCoT on 

October 16th

. 
Gritziotis succeeds David Tsubouchi who was appointed as OCoT's second Registrar & CEO in October 2013.  COCA wishes to than David for his leadership and service to the trades in Ontario.
Deputy Minister of Labour, Sophie Dennis, has announced the appointment of Marcelle Crouse (currently Assistant Deputy Minister, Policy at the MoL) as Acting Associate Deputy Minister and Chief Prevention Officer for the Ministry of Labour, effective

October 2, 2017

.  The MoL is expected to engage an executive search firm and begin the recruitment of an individual to fill the position on a permanent basis, in the near future.  
CCA Opposes Federal Tax Proposals
The Canadian Construction Association is a member of the Coalition for Small Business Tax Fairness formed to provide a unified voice in opposition to the

 

federal government's tax proposals that would dramatically change the way incorporated small businesses are taxed in Canada. To read the coalition's letter to federal finance minister Bill Morneau click on the following link: 

 

https://goo.gl/ZB8EVz
The CCA has pledged to work with the coalition to make sure the construction industry's concerns are heard at the highest levels.  
Government Policies Gaining Favour
Internal government polling secured by the Canadian Press through a Freedom of Information request reveals the following:
The government's management of the province's electricity system and electricity prices is beginning to win favour with the public

50% of respondents support the cap and trade system after its implementation

71% of respondents support the increase in the minimum wage to $15
The pollsters concluded that:
The government's messaging should focus on capping the emissions that businesses are allowed to release into the air and not use the words "cap and trade"

"Increasing the minimum wage, along with protection for temporary and part-time workers, serves to increase confidence in government even more than increases to healthcare spending,"
The poll was conducted by The Gandalf Group which is headed by David Herle who is leading the Liberal's re-election campaign. 
Duguid Not Seeking Re-election
The friendly and popular MPP for Scarborough Centre and Minister of Economic Development and Growth, Brad Duguid, has announced that he will not seek re-election in the June 2018 Ontario general election.  
In a statement announcing his decision, Duguid said he has confidence that the Kathleen Wynne Liberals will win the upcoming election.  It's believed that the mild heart attack Duguid suffered last year caused him to change to a healthier lifestyle and reassess his priorities. 
A long-time politician, 55 year old Duguid was first elected as a Councillor in Scarborough in 1994, then as a Councillor in the amalgamated City of Toronto in 1997 and 2000, then as an MPP in 2003, 2007, 2011 and 2014 as a member of the McGuinty and Wynne governments serving in several cabinet positions.  He is expected to continue as MPP for Scarborough Centre for the balance of the current parliament.  We wish him well in his future endeavours.
Duguid joins Monte Kwinter, Mario Sergio and Glen Murray (who has already resigned) on the list of Liberal MPPs who will not be seeking re-election in 2018.  PC MPP Julia Munroe has also announced that her name will not be on the ballot next year.
Liberal Trials
The trial of Premier Wynne's former deputy chief of staff, Pat Sorbara and Sudbury Liberal fundraiser Gerry Lougheed Jr is underway. They are charged with offering inducements to then NDP MP Glenn Thibeault to resign his seat in Parliament in Ottawa and run for the Liberals in a provincial Sudbury by-election and for offering enticements to the defeated Liberal standard bearer in the 2014 Ontario general election and would-be candidate in the party's nomination process for the Sudbury by-election, Andrew Olivier, to step aside. 
Meanwhile,  the start of the trial of former Premier Dalton McGuinty's chief of staff, David Livingstone and deputy chief of staff Laura Miller has been delayed by one week to Monday, September 18th.   The pair has been accused of deleting emails from computers in the premier's office relating to the cancellation of gas plants in two sensitive Liberal ridings. 
These trial do not reflect well on the Liberal brand and it is no doubt the hope of the party that they are of short duration and quickly forgotten.  
Forum Poll Results
A recent Forum Research sampling of almost 1,000 Ontarians showed that, despite well publicized allegations of irregularities in the PC's candidate nominations processes in several ridings, that:
If an election was held at the time the poll was taken 40% would vote for the PCs, 27% for the NDP and 25% for the Liberals

Premier Wynne's net favourable score is in the basement at -55, PC leader Patrick Brown's was  -9 and NDP leader Andrea Horwath's was +5 making her the most popular party leader

27% said Patrick Brown would make the best Premier, 21% for Horwath and 15% for Premier Wynne; 27% said none of the above
Forum President Lorne Bozinoff noted that Premier Wynne should be concerned about her declining support in Toronto which she will need to secure if she has any chance of winning the June 2018 general election.
Productivity Gains in Construction the Worst
According to the August 19 – 25, 2017 edition of The Economist magazine, productivity gains in the construction industry are the lowest among all sectors.  The headline on the cover blared "Construction: least efficient industry" and the banner over the article inside read, "The Construction Industry; Least Improved" with the tag line, "Builders have resisted investment and consolidation. Little wonder productivity gains are the world's lowest".
The article is global in its perspective, not focused on Canada, and it compares productivity gains made over the years in construction with other industries. 
Among the interesting points made are the following:
The global construction market is worth $10 trillion

More than 90% of the world's infrastructure projects are either late or over budget

According to the respected management consulting firm McKinsey, construction has the lowest rate of productivity gains of any industry, inching up only 1% per year, one-quarter the rate of manufacturing

Increasing regulatory burden is responsible for about 1/8th of the productivity lost since 1987

Differing building codes county to county make it difficult to reap the benefits of scale

The fact that construction projects are customized, not exactly replicable, is also partly responsible

The industry has become less capital intensive and more labour intensive.  This is probably because the industry has historically been cyclical and it is easier to shed workers in downturns rather than carry the high fixed costs involved in capital and equipment

The industry has failed to consolidate and benefit from scale

The way the industry and projects are structured, with each project having a dozen or more contractors each trying to maximize their  own profit rather than collaborate to contain costs is significantly responsible

The industry raises prices for clients and ignores tools to improve productivity

The only industry with narrower profit margins than construction is retail

Thin margins and the prospect of a downturn restrain investment in productivity tools
Among the solutions proposed in the article to enhance productivity in the construction industry:
Consolidation

Collaboration

BIM

More builders using computer aided design

Remote controlled cranes and self-driving bulldozers

Mass production

Modular construction
Cana Data Conference; A MUST Attend Event
ConstructConnect, the folks who give us our industry's bible, the Daily Commercial News, will be presenting their annual Cana Data Conference from 

8:30 am to 4:00 pm

 on 

September 21st

 at the Liberty Grand on the CNE grounds in Toronto.  The Cana Data Conference is a MUST ATTEND event for anyone interested in learning where our industry has been and more importantly, where it's headed.  It's the very best annual, one day construction conference there is.  We could not recommend it more highly.
"From economists, to CEOs and heads of government agencies, CanaData has combined a rich pool of expertise into a day of thought leadership that is a mandatory event for leadership within Canada's diverse construction industry."
This year's lunch time keynoter will be CNN political commentator Carl Bernstein who with Bob Woodward co-authored best sellers "All the President's Men" and "The Final days". 
Aecon on the Block
Canada's largest publicly traded construction company, Aecon Group Inc., recently disclosed that it has engaged BMo Capital Markets and TD Securities to look for a buyer for the company.  According to a company statement, the reason for this action is "to create shareholder value and enhance the company's capabilities and growth potential."  
Aecon stock shot up more than 20% following the company's announcement.  Aecon has divisions in construction, mining, energy and infrastructure, with headquarters in Toronto, Calgary, and Vancouver.  Prospective purchasers are thought to be among the large global engineering and construction enterprises.
New on the COCA Website
Ontario Releases 2016-17 Public Accounts

Ontario College of Trades names new Registrar & CEO

Ring of Fire road 'a huge win for northern Ontario'

Green sector to employ millions of builders by 2050: report

Ontario Making Major Investments in Social Housing Repairs and Retrofits

Outlook for construction hiring in Canada is brighter heading into 2018

Ontario and First Nations Moving Ahead With Road to Ring of Fire

New Immigration Program to Support Agriculture and Construction Sectors

Optimistic Revenue Projection Underpins Government's Balanced Budget Plan

Five things business wants from the Ontario government
COCA is the voice of our membership at
Queen's Park. 
We want to hear from you.  All questions, ideas and comments are more than welcome.
Council of Ontario Construction Associations
180 Dundas Street West, Suite 2001
COCA Staff
Operations & Communications Manager