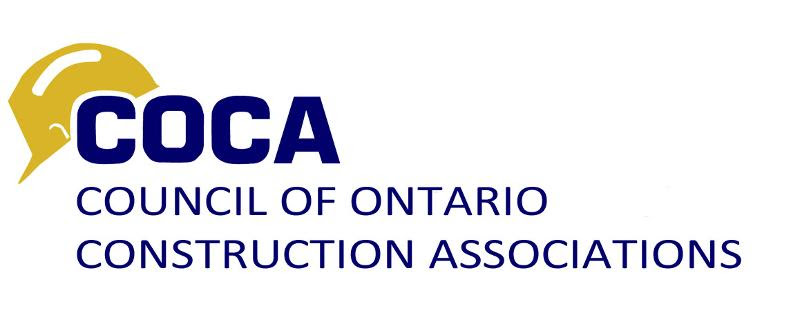 Construction in Ontario Newsletter – August 2017 Edition
The Council of Ontario Construction Associations (COCA) is a federation of construction associations; the largest and most representational group of industrial, commercial and institutional (ICI) and heavy civil construction employers in Ontario. Our member organizations represent more than 10,000 construction businesses and more than 400,000 employees.
As industry advocate, COCA brings the concerns of our members to the attention of Queen's Park and works with the government to ensure that Ontario's legislative landscape is one in which our industry can grow and prosper.
Paper Proposes Modular Stackable Approach to Skills Training
The section of Maxim Jean-Louis' May 2017 paper titled "An Apprenticeship Skills Agenda – Executive Summary" that addresses the way apprenticeships
are delivered
in Ontario is interesting and thought
provoking.
In it, Jean-Louis, who is President & CEO of the distance learning agency Contact North, proposes a fundamental change in the way apprenticeships should
be delivered. To quote his paper, "The model of
apprenticeship
now widely in use is no longer suitable for the current situation. Discrete and distinctive boundaries around skills are
being replaced
by more complex
demands for multi-skilled and multi-layered tradespersons. Combinations of skills
are required
for new forms of
work
and all trades will need to master the ability to work in partnership with existing and emerging technologies. New approaches to skills education are emerging in other jurisdictions which move beyond time-based, journey person-supervised apprenticeship to a competency-based, assessment driven and technology-enabled learning system. Ontario has both the capacity and the opportunity to show leadership in rethinking
apprenticeship
acro
ss Canada."
The full paper can be accessed at the following link:https://goo.gl/xpRbwT
Another Political Dynasty in the Making?
Some time ago, York-Simcoe MPP Julia Munro announced that she will not seek re-election in June 2018.  Julia was first elected with the big blue Conservative wave that swept across Ontario in 1995 known as the Common Sense Revolution and she has held the seat ever since.
Enter 43 year old, Harvard educated, lawyer-by-training, financial services executive and philanthropist Caroline Mulroney, daughter of former Prime Minister Brian Mulroney.  Mulroney has announced that she will seek the PC nomination in York-Simcoe, considered to be a safe Tory riding, in a contest scheduled for 
September 1st
.
Could this be another political dynasty in the making?
Community Benefits – The Ontario Experience
"Community Benefits" is the term used when a government undertakes to leverage investments in public infrastructure and economic development to achieve social policy objectives.
In its July 2017 study of Metrolinx's implementation of its community benefits framework titled "Achieving Benefit – Achieving Community Benefits in Ontario" the Mowat Institute offered the following recommendations to Metrolinx and the province of Ontario:
In line with international best practices, update Ontario's procurement directives to reflect social value considerations – both in relation to guiding procurement principles and specific processes.
Develop technical guidance for procurement officials that provides concrete advice on community benefits, with model clauses and templates.
Strengthen the focus of community benefits policies, consider developing a strategy document to supplement and clarify the types of social outcomes or "community benefits" desired across all lines of business.
Define the proposed scope of any community benefit and sustainable procurement requirements early on in procurement processes.
For contracts that include workforce development requirements, develop a common approach to the inclusion of targets.
Consider the capacity of stakeholders during the bidding process and offer opportunities for support.
Connect bidders to existing construction job pathways and other pre-apprenticeship streams
Develop a shared evaluation framework
Explore opportunities to leverage existing tools for monitoring and compliance.
As a starting point for future projects, experiment with contract thresholds that require the consideration of targeted recruitment initiatives on procurement values with an estimated value of more than $100 million.
"Achieving Benefit – Achieving Community Benefits in Ontario" can be accessed at the following link: 
https://goo.gl/NywTmx
Murray Resignation Causes Cabinet Shuffle
On July 31st Glen Murray stepped down from his position as Minister of Environment and Climate Change in the Ontario government.  He will remain MPP for Toronto Centre until 
September 1st
 when he will resign from the Ontario Legislature.  Murray has accepted a position as the executive director of the Pembina Institute.
In a minor cabinet shuffle on July 31st, Premier Wynne plugged the hole created in her Cabinet by Murray's departure with the MPP for Newmarket-Aurora,
Chris Ballard.  Ballard was moved over from his former role as Minister of Housing and Minister Responsible for the Poverty Reduction Strategy.
Promoted to Cabinet to become the new Minister of Housing and the Minister Responsible for the Poverty Reduction Strategy is the MPP for Etobicoke-Lakeshore, Peter Milcyzn.  Prior to this promotion Milczyn had an active role in the affairs of the government and the Legislature as PA concurrently to the ministers of Infrastructure, Labour and Francophone Affairs, as the chair of the Standing Committee on Finance and Economic Affairs and a member of the Standing Committee on Estimates.
Expect new PAs to be appointed in the near future.  
Residents of Toronto Centre, considered a safe Liberal seat, will have to wait until the general election next June to have the opportunity to elect Murray's successor.
Unlicenced Contractor Does Jail Time
The DCN recently reported that David John, known to operate Kenchiku Developments Inc. in Brampton was recently found guilty of two counts of working without an electrical contractor's licence and two counts of failing to apply for an electrical inspection.
John was sentenced to 5 days in jail and ordered to pay $40,000 in fines as well as a victim surcharge of $10,000 for installing interior and exterior pot lights in homes in Milton.
Gravelle's Back and He's Running
After a five-month medical leave to deal with depression, on Monday, July 31st Michael Gravelle, Ontario's Minister of Northern Development and Mines and the MPP for Thunder Bay-Superior North announced that he is returning to cabinet and plans to run in the next election.
We admire the way Minister Gravelle has dealt with his health challenges publicly and we wish him the very best for a full recovery.
The difference between an employee and independent contractor 
From the Ministry of Labour website 
Learn the difference between an employee and an independent contractor in Ontario and what you're entitled to under the Employment Standards Act.
Who is an employee
You may be considered an employee, under the 
Employment Standards Act
, when at least some of the following describes your work:
the business provides you with tools, equipment or materials to perform work
your pay is not affected by the way you do your work (e.g. if you work faster or create a better product, you will not necessarily be paid more)
you cannot subcontract your work to another person
the business has the right to suspend, dismiss or otherwise discipline you
the business decides:

what you do
how much you will be paid
when the work needs to completed by
how and where you complete your work
Who is an independent contractor
You may be considered an independent contractor when at least some of the following describes your work:
you own and are responsible for some or all of the tools or equipment you use to do your job
you are in business for yourself, make profit and have a risk of losing money from the work you do
you determine how and/or where your work is completed
you can subcontract some of your work
the business can end your contract for services, but cannot discipline you
Common misconceptions
You may still be considered an employee even if you:
agree (verbally or in writing) to be an independent contractor
charge HST
submit invoices
use your own vehicle for work purposes
don't have statutory deductions (e.g. tax, CPP, EI) taken from your pay
Your rights as an employee
If you are considered an employee under the Employment Standards Act, you may be entitled to employment rights such as:
minimum wage
overtime pay
public holidays
vacation with pay
Please note, the Employment Standards Act provides minimum standards only.
You may have greater rights under an employment contract, collective agreement, the common law or other legislation.
If you're unsure, please talk to a lawyer.
Summer Students to Visit 10,000 Workplaces
This summer, more than 30 Ministry of Labour summer students will visit 10,000 small businesses across Ontario to promote awareness of employment standards and occupational health and safety laws.
The students will:
distribute a resource kit to help improve compliance, including information sheets, posters and handouts, and
conduct a survey to help improve the ministry's resources and outreach for small businesses.
Another Bundle of OPP Stations
Infrastructure Ontario and the Ministry of Community Safety and Correctional Services have bundled the construction of nine new OPP stations into a single project.  The OPP stations will be built in Clinton, Mississauga, Hawkesbury, Little Current, Marathon, Parry Sound, Fort Frances, Moosonee and Orillia on a design, build and finance basis.
Three teams that prequalified for this project, Bird Capital Limited Partnership. DBF Pomerleau and EllisDon Infrastructure Justice, are in the process of responding to the RFP and preparing their proposals.  IO and MCSCS are expected to announce the successful team in mid-2018.
Study Concludes Ontario's Timeline to Reduce Debt Unrealistic
Most of us are aware that our Ontario government has just about maxed out its credit card.  It's often been stated that Ontario is the most highly indebted sub-sovereign jurisdiction in the world.  In its 2017 Budget, our provincial government committed to returning to prerecession debt levels – generally understood to be in the neighbourhood of 26% – 27% debt to GDP – by 2029/2030.
The Fraser Institute recently released a paper titled "Wishful Thinking: An Analysis of Ontario's Timeline for Shrinking Its Debt Burden" which finds that Queen's Park's timeline for reducing the province's historically high debt burden relies on optimistic and questionable assumptions and lacks a detailed, credible plan to achieve it.  For the full study click on the following link:
https://www.fraserinstitute.org/
Government to Propose two More Ridings
Attorney General Yasir Naqvi has signalled that the government will introduce legislation in the fall 2017 session to create an additional two ridings in northern Ontario.  These are in addition to the fifteen new ridings already set in place for the June 2018 Ontario general election.
The new riding of Kiiwetinong, the northern section of the current riding of Kenora-Rainy River, will have a population of 33,000 and Mushkegowuk, severed from the Timmins-James Bay riding, will have a population of 30,000.
If this legislation is passed, there will be a total of 124 ridings in play in the June 2018 general election.
Cannabis Secretariat Conducts Consultation
In April 2017 the government of Canada introduced legislation which if passed will legalize the use of cannabis.  Under this legislation, each province is required to develop a framework to regulate the distribution, sale and consumption of cannabis.
On 
July 12
 the Ontario Legalization of Cannabis Secretariat in the Ministry of the Attorney General launched a public consultation seeking feedback on the following issues:  a)setting a minimum age for having, using and buying cannabis; b) deciding where people can use cannabis; c) keeping our roads safe; d) regulating cannabis sales; and e) planning public education.
Then on August 10th the Secretariat convened a stakeholder roundtable at which the following matters were addressed:  a) retail and distribution; b) impaired driving; c) minimum age; d) possession; e) places of use; f) home cultivation; g) public education; h) youth and young adult prevention, and harm reduction; i) workplace safety; j) responsible economic development.
Needless to say, COCA was pleased to participate in this consultation and to provide advice particularly in the area of workplace health and safety.
Expect Speedy Passage of Better Jobs Act
Bill 148 Fair Workplaces, Better Jobs Act 2017 if passed will:
Increase the minimum wage to $15/hour phased in over two years
ensure part-time workers are paid the same hourly wage as full-time workers
 introduce paid sick days for every worker
Enable at least three weeks' vacation after five years with the same employer
Tighten enforcement of employment laws.
Provide fairer scheduling rules
expand family leaves
restrict the classification of employees as independent contractors
make it easier for workplaces in some sectors to unionize
introduce a program for educating employees and small- and medium-sized business owners about their rights and obligations under the Employment Standards Act.
This Bill is expected to get speedy passage through the legislature in the fall 2018 session and serve as a significant legacy of Kathleen Wynne's government.
New on the COCA Website
Ontario invests $24M into green construction training
Construction leaders commend Murray as he steps down
Ontario Releases 2017-18 First Quarter Finances
Statement from Attorney General on Final Report of the Far North Electoral Boundaries Commission
Ontario Adds 25,500 Jobs in July
Ontario government shakeup: Murray out, Ballard in and no by election
Murray quitting as environment minister signalling a climate change at Queen's Park
Ontario injury tally rises amid new reporting method
Ontario Seeking Public Input on Federal Plan to Legalize Cannabis
COCA is the voice of our membership at Queen's Park. 
Council of Ontario Construction Associations
180 Dundas Street West, Suite 2001
Toronto, ON    M5G 1Z8