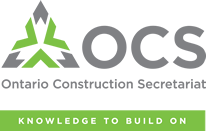 EYE ON ICI – OCS Newsletter – July 2017
EYE On ICI… Your Source for ICI Construction-Related News in Ontario!

EYES ON OCS AT HALIFAX CONSTRUCTION CONFERENCE

An idea for the past 10 years, a day-long meeting of Provincial Sector Council and Secretariat representatives finally took place last month in Halifax, Nova Scotia.  Among those in attendance was OCS Executive Board member Wayne Peterson, who was pleased to attend and called it a "great first conference".

SAFETY CULTURE – KEY TO ENHANCING JOBSITE SAFETY

Research conducted by the 

Institute for Work and Health

 (IWH) supports the idea that unionized industrial, commercial and institutional (ICI) construction workplaces are 23% safer when compared with non-union job sites.  Funded by the Ontario Construction Secretariat (OCS), the ground breaking and scientific research suggests the existence of a "union safety effect", confirming that union values and practices generate better health and safety outcomes.

MID-YEAR UPDATE: ICI BUILDING PERMITS ON THE RISE

This is the Ontario Construction Secretariat's update on local building permits in Ontario.  Included are local updates for Central Ontario, for the following cities: Barrie, Brantford, Guelph, Hamilton, Kitchener-Cambridge-Waterloo, Oshawa, St. Catharines-Niagara, and Toronto.  Select from any of the cities below.

NEW PROVINCIAL FUNDING FOR SCHOOLS FOCUSES ON GREEN INFRASTRUCTURE

A new plan to make Ontario schools greener and "better places to learn" will create construction opportunities for a variety of trade contractors especially those involved in retrofitting for high-efficiency lighting and energy efficient windows

STAKEHOLDER PROFILE: BRICK AND ALLIED CRAFT UNION OF CANADA

The 

Brick and Allied Craft Union of Canada

 (BACU) is the oldest trade in Ontario – receiving its charter in Hamilton on June 26, 1881.  That's why it is Local 1.  Toronto received its charter the next day.  It's Local 2.

View current economic indicators for Ontario such as Construction Employment, CPI Inflation & Unemployment Rate.

For any enquiries or information related to Eye on ICI Newsletter or OCS, please contact the OCS at info@iciconstruction.com.