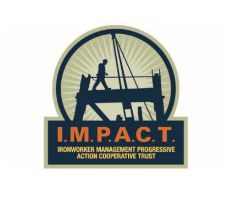 IMPACT launching NEW Winter Training Program
During the week of January 23-27, 2017, IMPACT will launch its new Winter Training Program, which provides members with the opportunity to register and attend courses on business, productivity, leadership, and communication. This new program is designed to meet our members' needs for education opportunities that occur during the slower winter work season. Participants will have the opportunity to sharpen their skills while networking with other IMPACT members and leading industry experts.
The program will be held January 23-27, 2017 at the Iron Workers Local 416/433 Training Center (Las Vegas), located in Henderson, Nevada. We will offer this program each year during the fourth week of January in Henderson.
We would like to highlight the courses offered at this year's program. A flyer for the program is located at the bottom of this message.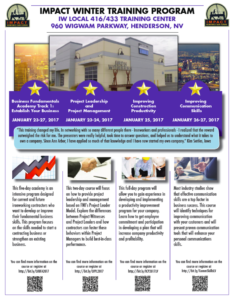 Project Leadership & Project Management: Mon. Jan. 23 – Tue. Jan. 24, 2017
Business Fundamentals Academy Track 1: Establish Your Business: Mon. Jan. 23 – Fri. Jan. 27, 2017
Improving Construction Productivity: Wed. Jan. 25, 2017
Improving Communications Skill: Thur. Jan. 26 – Fri. Jan. 27, 2017
The business success of our members is vital to the growth of the Iron Workers, and IMPACT and the Iron Workers are committed to helping prospective, new and more established contractors strengthen their business knowledge and skills, ensuring that our ironworkers continue to be gainfully employed, to grow and to thrive. For more information on courses or how to register, see the flyers below. Contact I can be reached at 202-294-1474with questions about this program. We hope you'll take advantage of this new IMPACT benefit and look forward to seeing you in January!
Cindy Menches, Ph.D., P.E., STSC
IMPACT Director of Contractor Training & Development
1750 New York Ave., NW, Suite 400
Washington, D.C. 20006
O: 202-393-1147
D: 202-383-4843
C: 202-294-1474