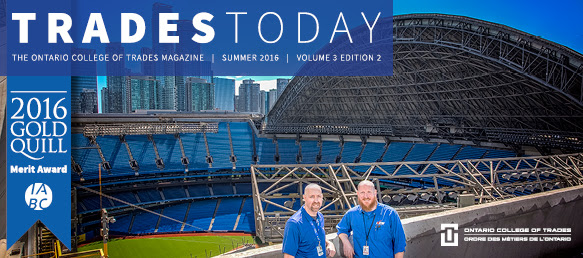 Trades Today | Summer 2016 Edition

Check out the Summer 2016 edition of Trades Today. Click on the links to read more. Please send any comments or suggestions regarding this publication to: editor@collegeoftrades.ca
INSIDE THIS ISSUE …
Raising the roof 
Rogers Centre's roof recently got a makeover. Hear from
the tradespeople who worked on the new roofing system
and why they love working at the home of the Blue Jays.
Read the full story on pg. 6.
Riding along 
Visiting job sites, checking credentials and helping educate people on the importance of certification – find out what it's
like to be on the road with an Ontario College of Trades enforcement officer on pg. 2. 
Hairstylist to the stars 
Karola Dirnberger's resume features three decades in the film industry, including work on an Oscar-winning movie.
She shares her behind-the-scenes experience and advice
for up-and-coming hairstylists on pg. 8.
More pathways for apprentices  
Group sponsorships makes it easier for small employers to take on apprentices.
For regular updates about your College and to check out past issues of Trades Today, visit us online atcollegeoftrades.ca and follow us on social media.