WSIB@WORK – Special Edition: #MySafetyResolution
What's your Health and Safety Resolution?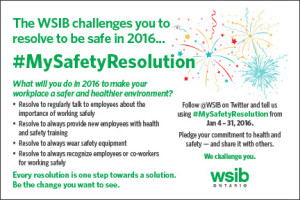 What will you do in 2016 to make your workplace a safer and healthier environment?
The WSIB is calling on you to show your commitment to health and safety by sharing your New Year's health and safety resolution on Twitter using #MySafetyResolution, from January 4 – 31, 2016.
We're looking forward to hearing about how you plan to improve or implement health and safety practices or programs in your workplace. Whether it's a simple habit change or a large scale initiative, every resolution is one step towards a solution.
Follow @WSIB on Twitter and tell us using #MySafetyResolution from Jan 4 – 31, 2016.