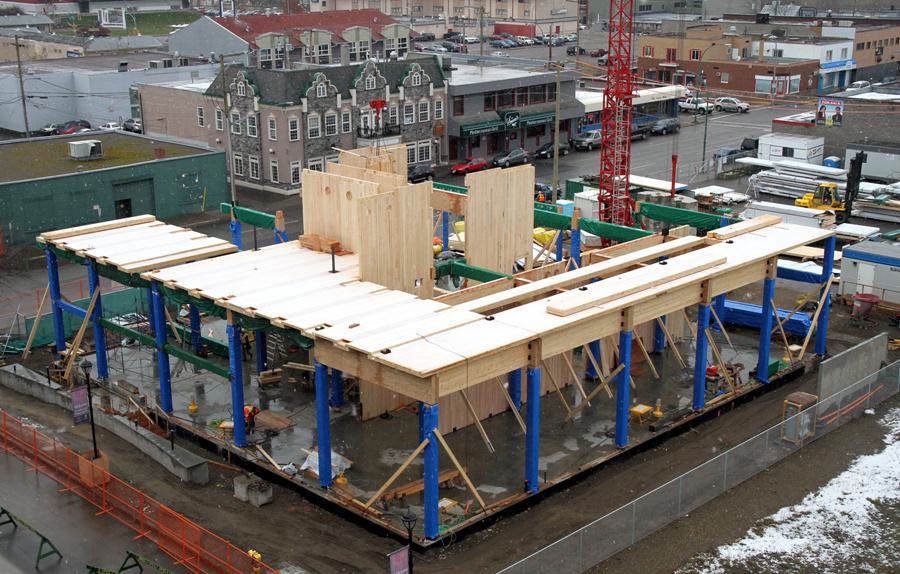 Wood Innovation and Design Centre under construction
In downtown Prince George, B.C., work is under way on the tallest contemporary all-wood building in North America
Over 29 metres high and 4,600 square metres, the Wood Innovation and Design Centre will use 1,846 cubic metres of wood and wood engineered products manufactured in B.C. These include glulam columns and beams, cross-laminated timber and laminated veneer lumber.
The centre is to be completed in the fall of 2014 as a "meeting place for researchers, design professionals, product manufacturers, contractors and others to generate ideas for innovative uses for wood."
The University of Northern BC's new master degree program in wood engineering and science will be located in the building, which will incorporate research and classroom space for the university. The building will also house offices for wood industry organizations.
Glulam columns and parallam beams support the "corrugated" cross-laminated timber floor assembly, and a "corrugated" CLT floor provides a low vibration surface, while providing a lower channel for lighting and sprinkler systems, and an upper channel for wiring, plumbing and other services.
The list of consultants includes: Michael Green Architecture, Equiilibrium Consulting, B.R. Thorson Consulting, RDH Buildng Engineering, MMM Group, Opus DaytonKnight Consultants, PCL Constructors Westcoast and Equity Plumbing and Heating. Mark Porter of Associated Engineering is the Technical Advisor for Structural Engineering.
Wood Innovation and Design Centre under construction in downtown Prince George, B.C. The photograph shows the building under construction, with the double-height main floor and core shaft.
Photo courtesy WoodWORKS! BC.